The buyer of an order of free tickets can cancel their order at any time before an event. When cancelled, all tickets in the order will be cancelled.
Note: This applies to free tickets only and not to orders booked using a discount code or pass credits. You can learn how to request a refund on a paid order here.
1. Log in to your Universe account using the email address associated with the order. If needed, you can reset your password.

To cancel a free order:
2. Click the dropdown to the top right of your screen, and select 'My tickets'.

3. Locate the order you would like to cancel and select the 'Cancel Order' option in the drop-down menu.
Note: Only the buyer of the order is able to cancel an order.

4. From the confirmation modal that appears, click 'Cancel Order'.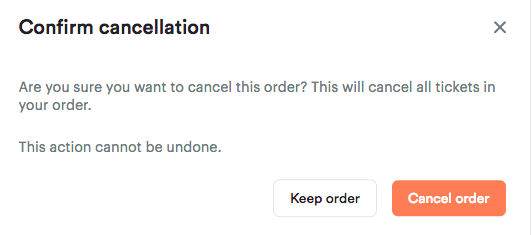 5. Once cancelled, you'll see a cancellation success confirmation.