Invoices for orders can be generated from the buyer's Universe account if the organizer has enabled this feature for their event. The option to generate an invoice will only show on the account of the buyer and will not show if the order is free. This feature can be turned on or off at any time by the event organizer.


Note: Universe acts only as the registration platform on behalf of the event organizer and is not the seller of the goods or services that an invoice generated from universe.com relates to.

To generate your invoice:

1. Login to your Universe account and go to your Your Tickets page.

2. Find the purchase you would like to generate an invoice for, click the 'More' drop-down menu next to the 'View Order' button. Select 'Generate Invoice' from the dropdown to reveal the invoice form.

Note: This option will only show if the order is paid through Universe, if you are the purchaser of the order, and if the host has enabled invoices on their event.

3. Enter all required information and any desired optional information into the form. Select 'Generate invoice'.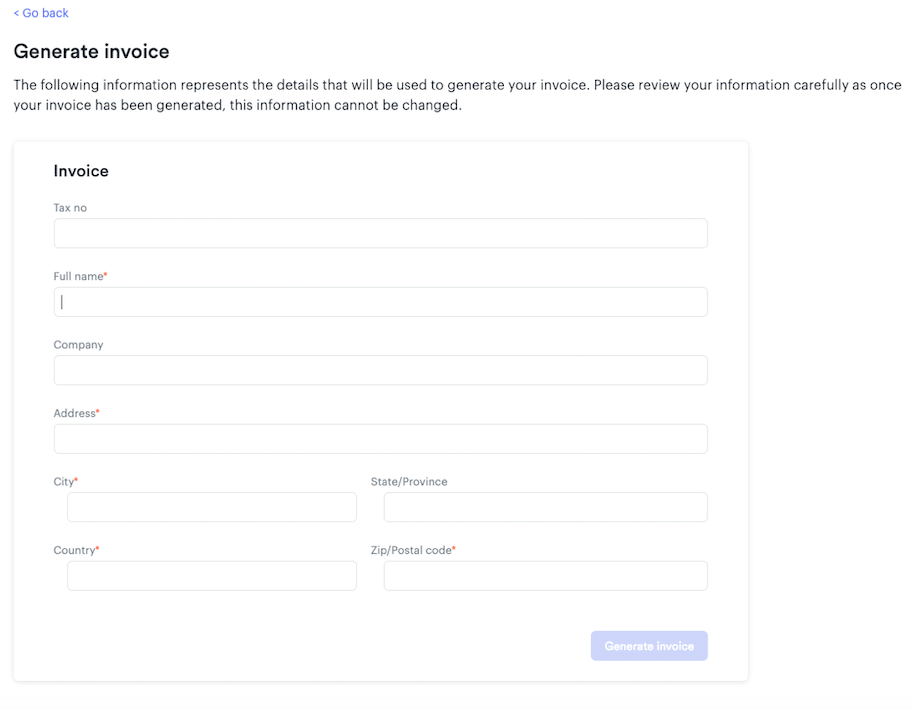 4. Review the details carefully as once generated, this information cannot be changed. Once reviewed, click 'Confirm' to generate your invoice.

5. Once confirmed, your invoice will be generated as a PDF. We'd recommend saving it right away. It can also be downloaded on your 'My Tickets' section of your Dashboard by clicking the 'More' drop-down beside the View Order button at a later time.
Generate Invoice from confirmation email:
Invoices for orders can also be generated from your confirmation email.
1. Locate the confirmation email from the email address entered when the ticket was purchased.
2. Scroll down until you see 'Need to edit your tickets?' and click on the 'Generate Invoice' button.
Note: A Universe Account must be created and logged in for this feature to work
3. Follow the previous steps 3-5