Manage the door of your event with BoxOffice, a free app for Apple and Android Devices that enables Universe event hosts to accurately and efficiently scan tickets/manually check-in attendees and sell tickets at the door.

BoxOffice is available as a free download from Google's Play Store. To view a guide on BoxOffice for iOS click here.

How it works:
Checking guests into your event is easy; all you need is your Android device and the BoxOffice app. No additional scanner or device is needed. Tickets can be displayed either electronically or printed off.
Hosts can check in attendees at the door using BoxOffice on multiple devices simultaneously to ensure quick entrance. Our servers take note – no ticket can be scanned more than once.

To get started using the Universe BoxOffice app (ANDROID):

1. Download BoxOffice for free from the Google's Play Store.

2. Open the app and log-in to your Universe account.



Note: Click here for information on adding users to your 'Organization' with At-The-Door permissions only.


How to scan tickets and check-in guests
1.
Once logged in, the app will default to the '
Scan
' tab.
By default, all upcoming events and ticket types will be selected and will be able to be scanned in as valid.
If needed, this can be filtered for specific events and ticket types. If this is not needed, skip to 3.

Note:
Your next upcoming event and all events within 72 hours of that event will be available on the app. Events that ended or do not start within 72 hours of your next event will not show.
2
.
To filter your guest list
, tap the event name at the top of your screen. On the '
Select Events'
screen, tap to select or deselect events, click '
Done
' to do the same for your ticket types and then click '
Ok
' on the ticket type modal and '
Done'
to save all changes.
This will generate a filtered list of all tickets that can be scanned in as valid of your device.
3. To scan a ticket, hold your device over the QR code barcode on the attendee's ticket. Centre the barcode and the camera will automatically focus and scan the ticket.

When the ticket is successfully scanned you'll see a valid scan confirmation on your screen along with the attendee name and ticket type. To view additional attendee data, select the up arrow in the green scan message to expand the fields displayed.

If a ticket is scanned that is not valid for the event/tickets types you have filtered or has already been scanned, you'll see the following screens.

Note: If you are scanning in a dark area, you can turn on your device's flashlight by selecting the lighting bolt button toward the top right corner of your screen when on the Scan tab.

4. To manually check in an attendee (rather than scanning their QR code) select the 'Guest List' tab from the bottom of the screen. From there, click the 'Search Name or Email' field at the top of your screen and start typing the attendee's name or email. Once the name appears on your list, you check them in by tapping their name. Once checked-in a blue check mark will appear.



Note: Tickets can be 'unchecked' once they are scanned or checked in by tapping on the attendee's name. This will make the attendee's ticket valid again.



Note: If the ticket is not valid or has already been scanned, you will see a warning message on the screen. If the ticket has already been scanned, you will have the option to check them in again. You will also hear two distinctive sounds for valid and not valid tickets.

You can track which tickets were scanned in using BoxOffice in your 'Guest List' and 'Attendees' report from your event's Manage page. These reports are kept up-to-date in real time. Click here to learn how to access your reports.
How to sell tickets at-the-door:



Note: Only events started within 72 hours are available on the BoxOffice app. If no events are happening within 72 hours, your next upcoming event will show.

1. Once logged in to the Android BoxOffice app, select the Sell tab from the menu along the bottom of your screen. A list of available events and tickets types will show. To specify which events and ticket types you want visible, click 'Filter events within a date range.' When the calendar appears, select the start date of the timeline you would like to view, then click next and repeat the same process to pick your end date.

Note: Tickets that are set to be available Everywhere (default) or At The Door Only will be displayed in the app. Any Ticket Types set to Online Only will not be bookable in the app. You can edit this at any time on the Edit page of your event.

2. Build your order by setting a quantity for each ticket type in the order. You can set a quantity by tapping on the plus or minus sign beside each relevant ticket type. Once you've selected all ticket quantities for the order, select the blue bar at the bottom of your screen.


Note: It's not possible to build an order for more than one event page or more than one date/time on an event at the same time.

3. If the buyer is paying by credit card, enter their payment information and email address (optional) and click pay in the blue bar along the bottom of the screen to confirm your order. You will see a confirmation on the screen when the payment is complete. If the order is free, the credit card fields will not show. If the buyer is paying outside of Universe, select the 'Cash' tab and enter any desired information and select the pay button at the bottom of your screen.

Note: If the optional email address field is left blank, buyers will not receive their tickets or receipt.
Turn the buyer information requirement on or off:
By default, buyer information (first name, last name, and email address) is required up until the start of a timeslot and then optional afterwards. Hosts can toggle this requirement on or off to always or never require buyer information, allowing them to collect details for all guests coming to their event, or to relax these requirements to help reduce line-ups at the door.
To enable this feature, head over to your Settings tab in the BoxOffice app, and select the 'Sell and Scan Settings':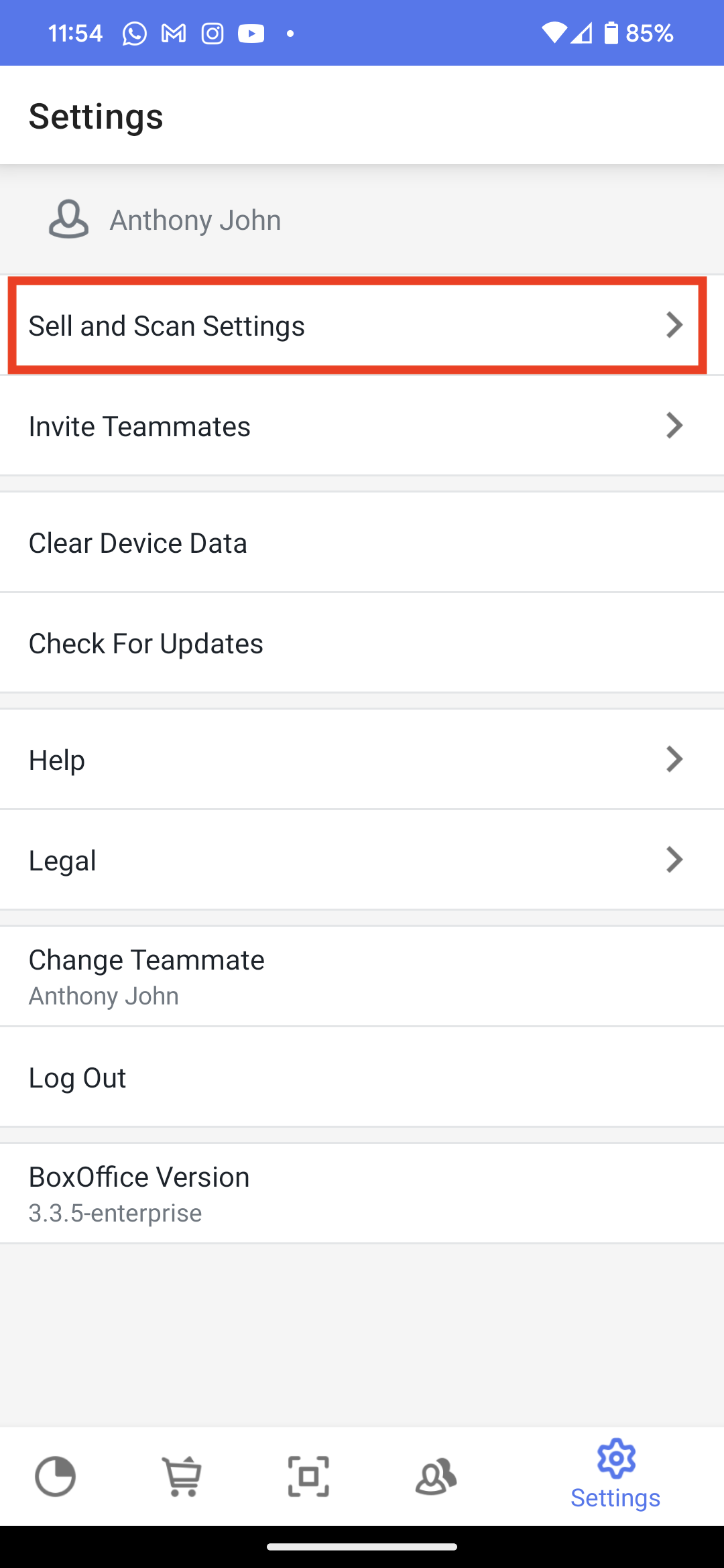 From the 'Sell and Scan Settings', click on the 'Requires Buyer Info' tab: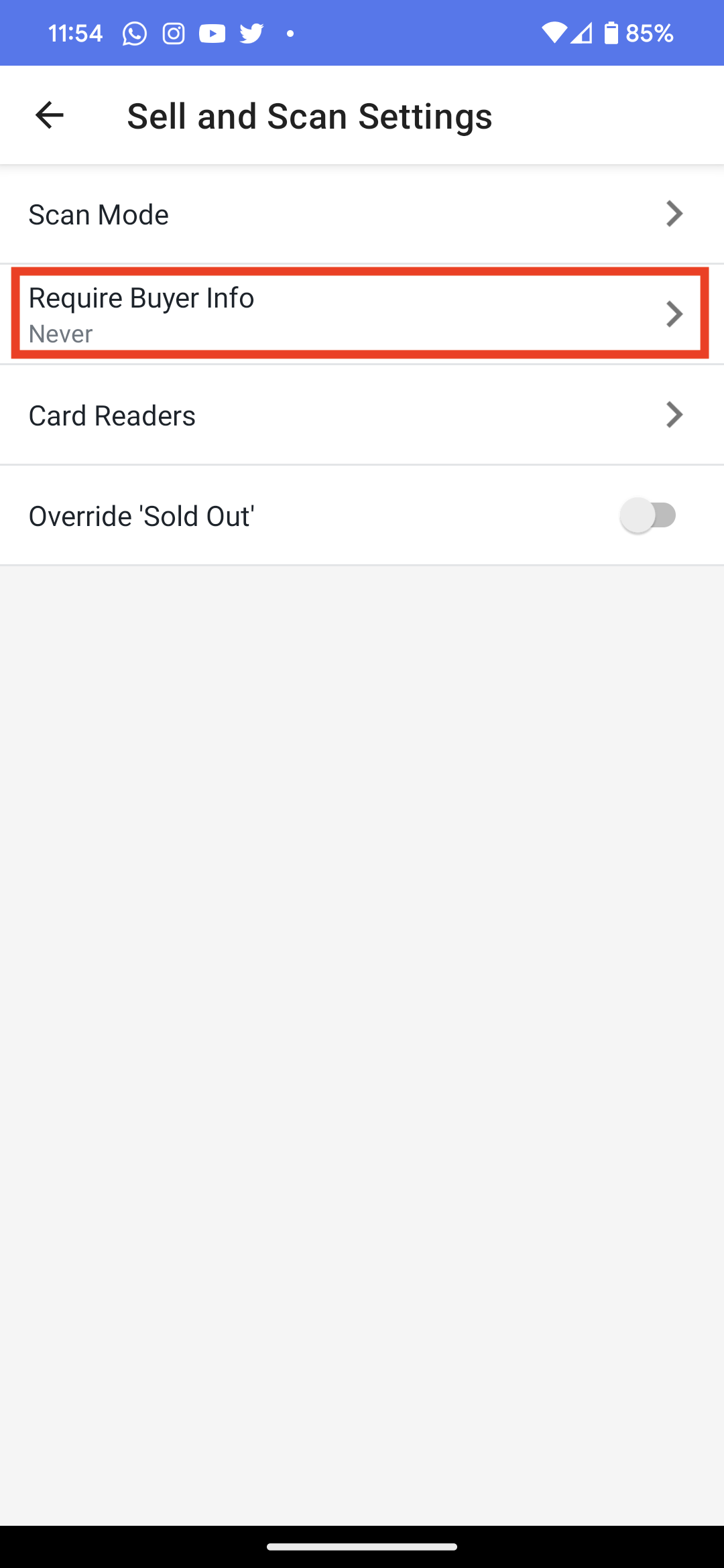 Select one of the three options (Before Event Starts, Always, Never):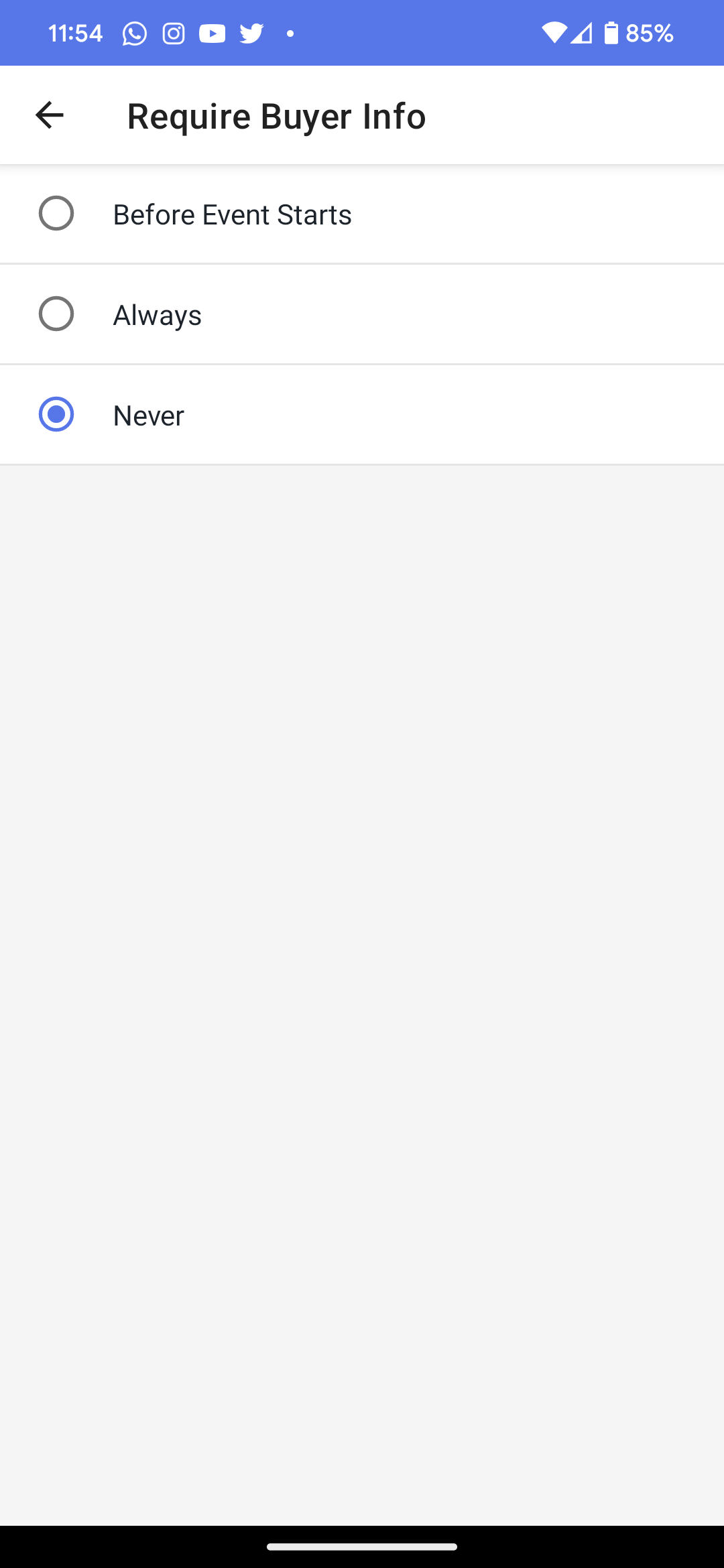 Note: these settings can also be shared to team members via the 'Join Teams' features.