By default a Universe ticket can only be scanned using the BoxOffice app once. If you want to allow a ticket to be scanned as valid more than once follow the steps in this article.
Multi-scan tickets are a great option for cases where you want to offer more than just entry with a ticket. Some example uses of multi-scan tickets are:
Granting entry to an event and access to a secondary experience, exhibit, or ride

Making a ticket valid for entry, and able to be redeemed for a drink, gift bag, or merchandise

Allowing guests to re-enter an event a specific number of times, without needing to scan guests out
Setting the maximum redemptions for a ticket type
In the advanced settings section of the tickets page during event creation and in your Event Manager you will see a "Max ticket redemptions" field. The number entered in this field is the number of times a ticket of that type can be scanned as valid in the BoxOffice app. The default value for this field is 1, meaning the ticket can be scanned as valid only once.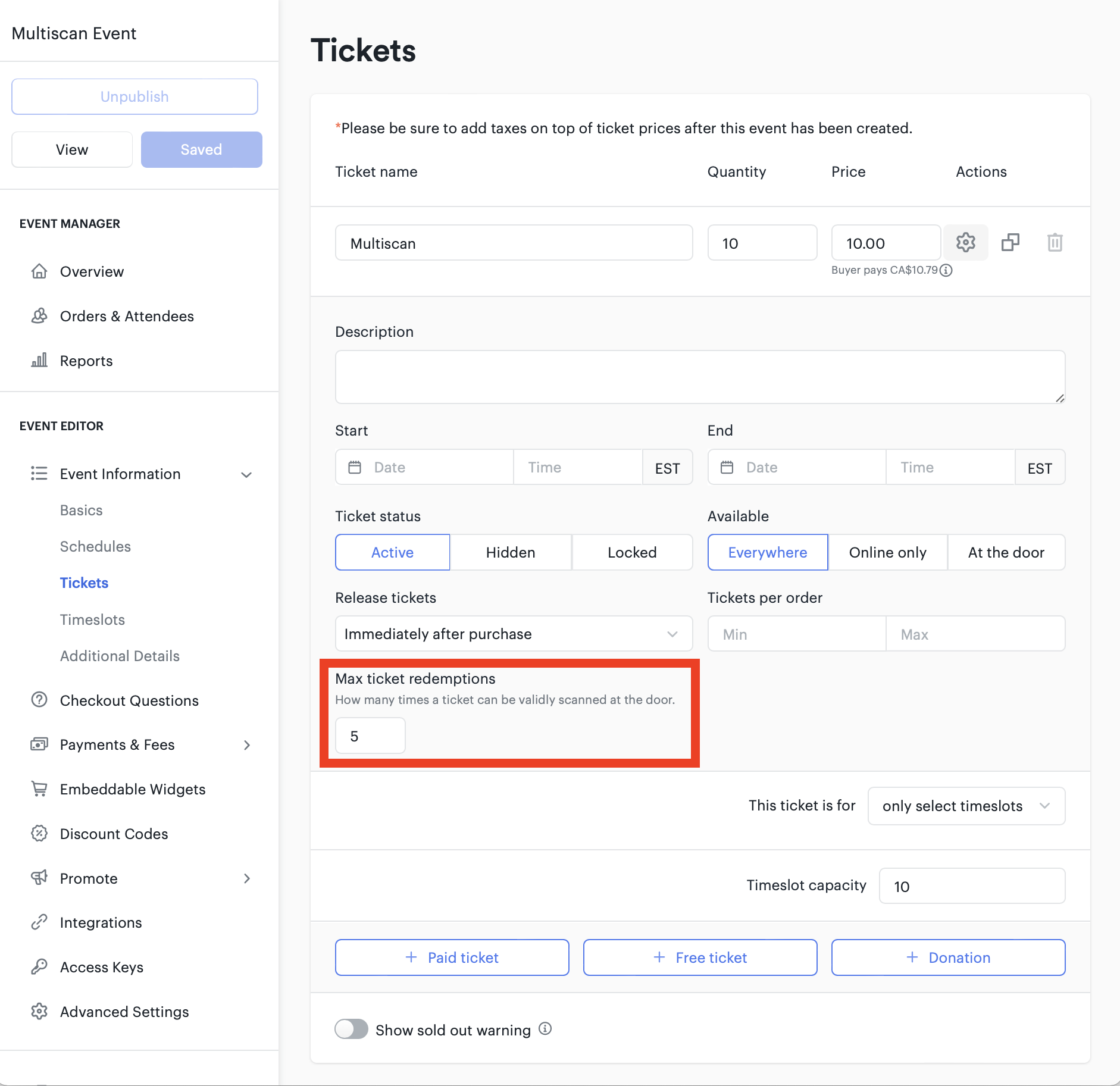 For example, setting Max ticket redemptions to 5 would allow the ticket to be scanned in as valid 5 times. If the ticket is scanned more than five times, an error message will appear in the BoxOffice app saying that the ticket is no longer valid.
Note: Multi-scan tickets will only scan as valid during timeslot they are purchased for, even if they have unused redemptions after a timeslot ends.
For example, a ticket with two redemptions purchased for a June 1st timeslot can only be scanned in during that June 1st timeslot. Even if the ticket was only scanned 1 time during that timeslot, the ticket cannot be redeemed on a different timeslot, such as June 2nd.
Scanning Multi-Scan Tickets with the BoxOffice App
A multi-scan ticket is scanned the same as a regular ticket in the BoxOffice app. When the ticket is scanned in the number of remaining scans will display below the timeslot that the ticket is valid for.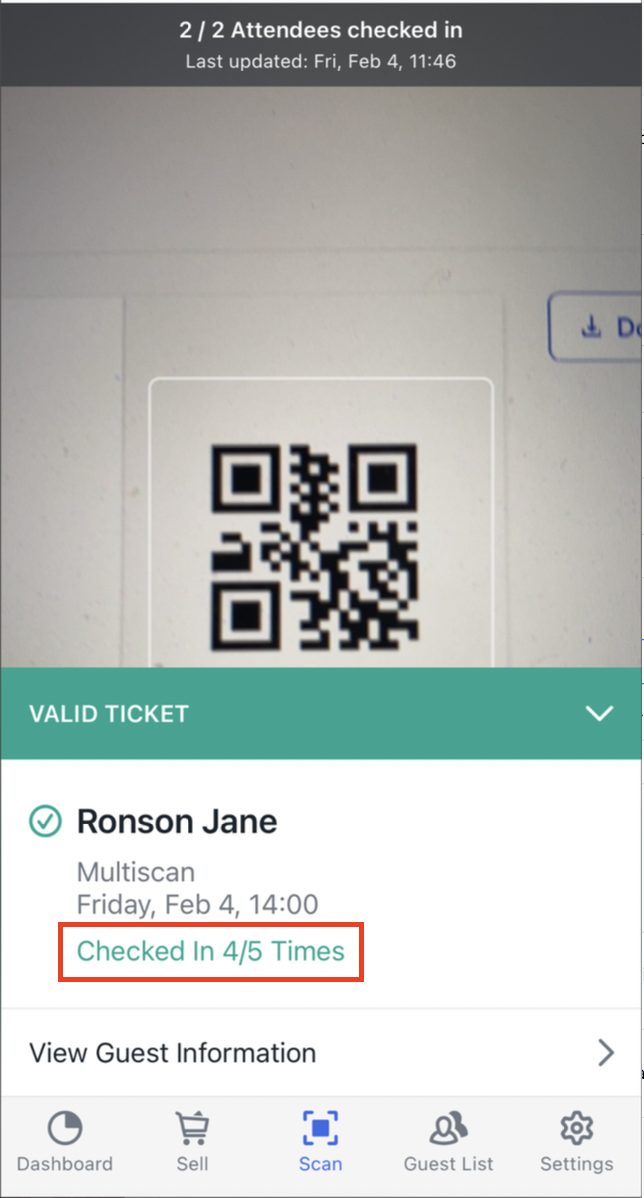 If a ticket is scanned after the maximum number of redemptions has been reached, an error message will display showing that the ticket has already been checked in the maximum number of times.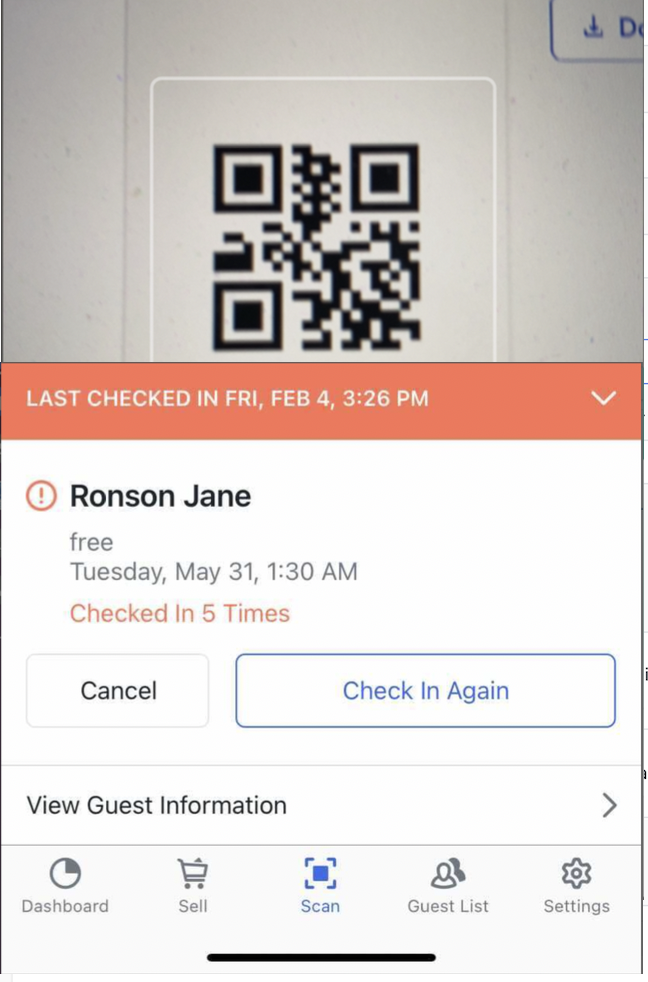 Note: To learn about configuring a multi-scan time delay for your tickets, please see here.