Enable Upgrades in Checkout to encourage buyers to purchase a higher priced ticket to your event. When enabled, this feature will be visible to buyers during the regular checkout flow.
Note: To enable this feature, you must have more than one ticket type available for your event. Please note that multiple upgrade paths can be configured, but only one upgrade will be applied to the order.
How to enable Upgrades in Checkout:
1. From your Event Manager, navigate to Checkout Settings > Ticket upgrades.
Select 'Create' on the Ticket upgrades feature, this will open a window to configure your ticket upgrades.



Once the window opens, you can start configuring your ticket upgrade.
2. Choose which ticket type will be offered as an upgrade to buyers. You can choose the ticket type from the drop down menu under 'Ticket upgrade'.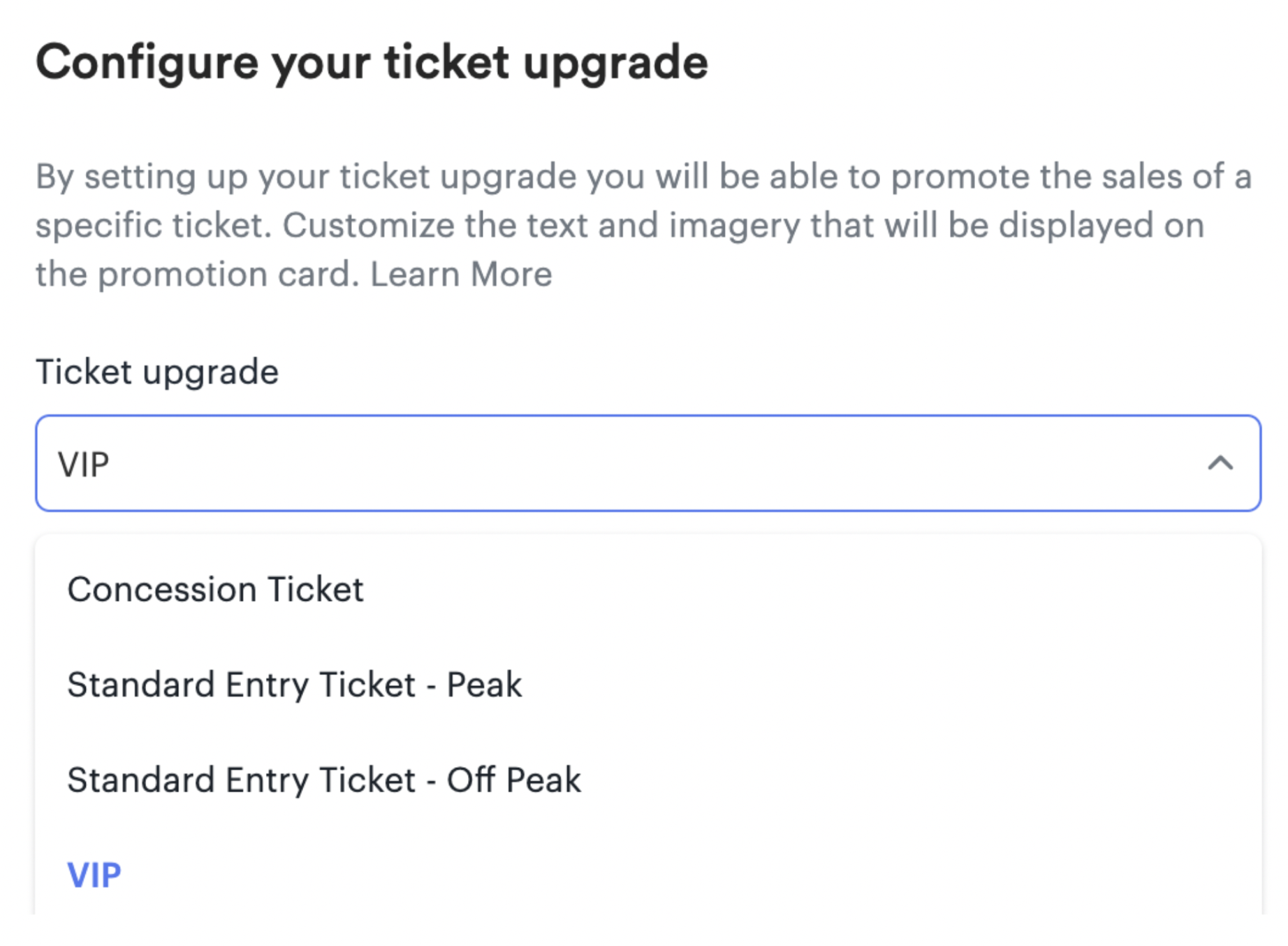 Note: Please ensure the ticket type selected is active. Buyers will be unable to upgrade to locked or hidden ticket types.
3. Next, select the ticket type you wish to prompt the upgrade. Do so by selecting the drop down menu under 'Show ticket upgrade when fan selects...' and select another ticket type.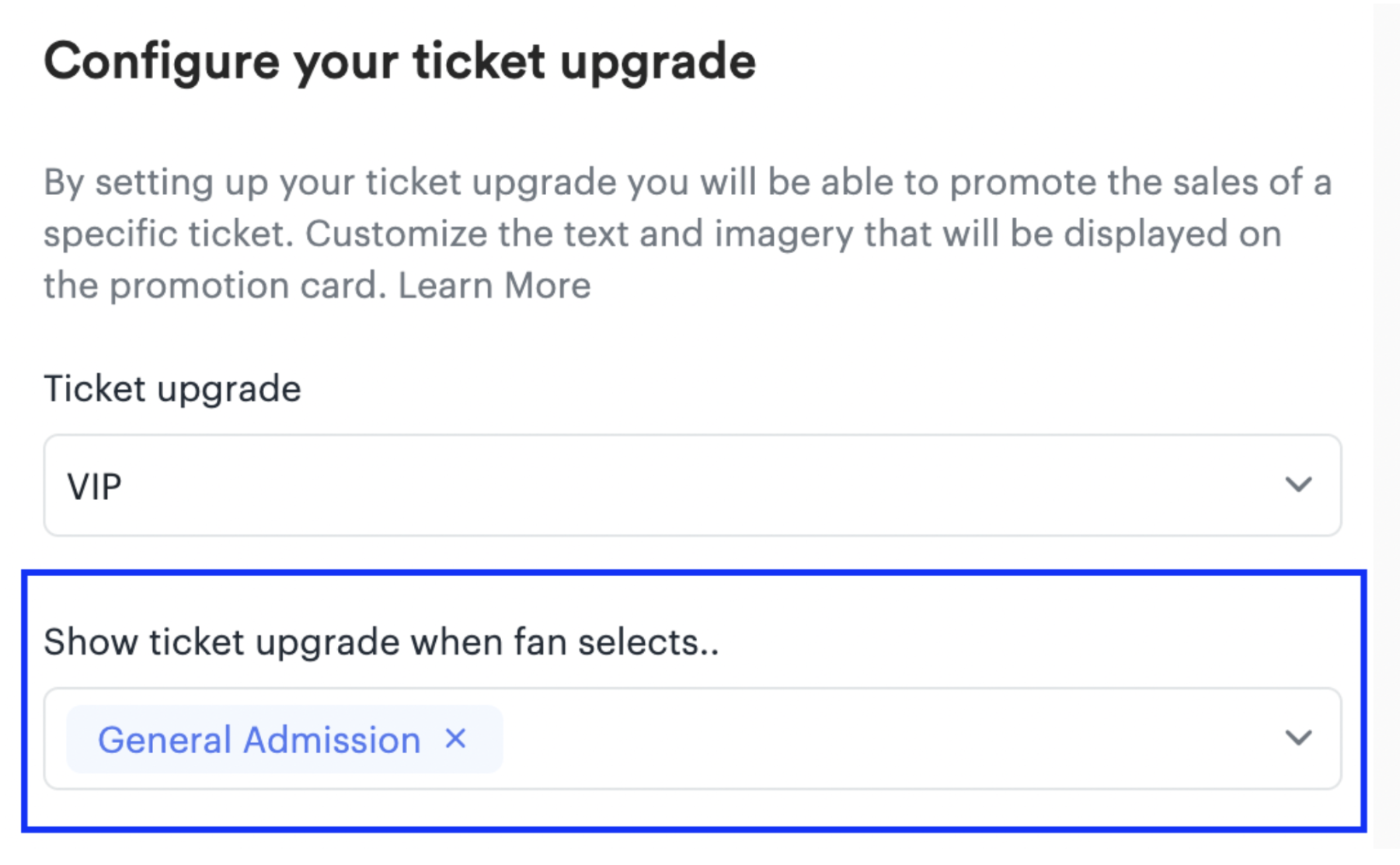 For example, if General Admission ticket is selected, when a buyer adds this ticket type to their cart they will be offered the VIP ticket upgrade option in the checkout flow.
Note: More than one ticket type can be added into this part of the configuration.
4. Once the ticket upgrade flow is created, further information can be added to highlight the features and benefits included in the upgraded ticket.

The following fields are customizable when creating your ticket upgrade:
Heading on the promotion

Description

benefits for upgrading

button text and image
Note: If you're adding an image, the recommended size is 500w x 200h px min. (max file size 2mb)
Filetype: .jpg or .png or .gif

As you edit the fields on this section, a live preview will show will be updated in the window on the right-hand side.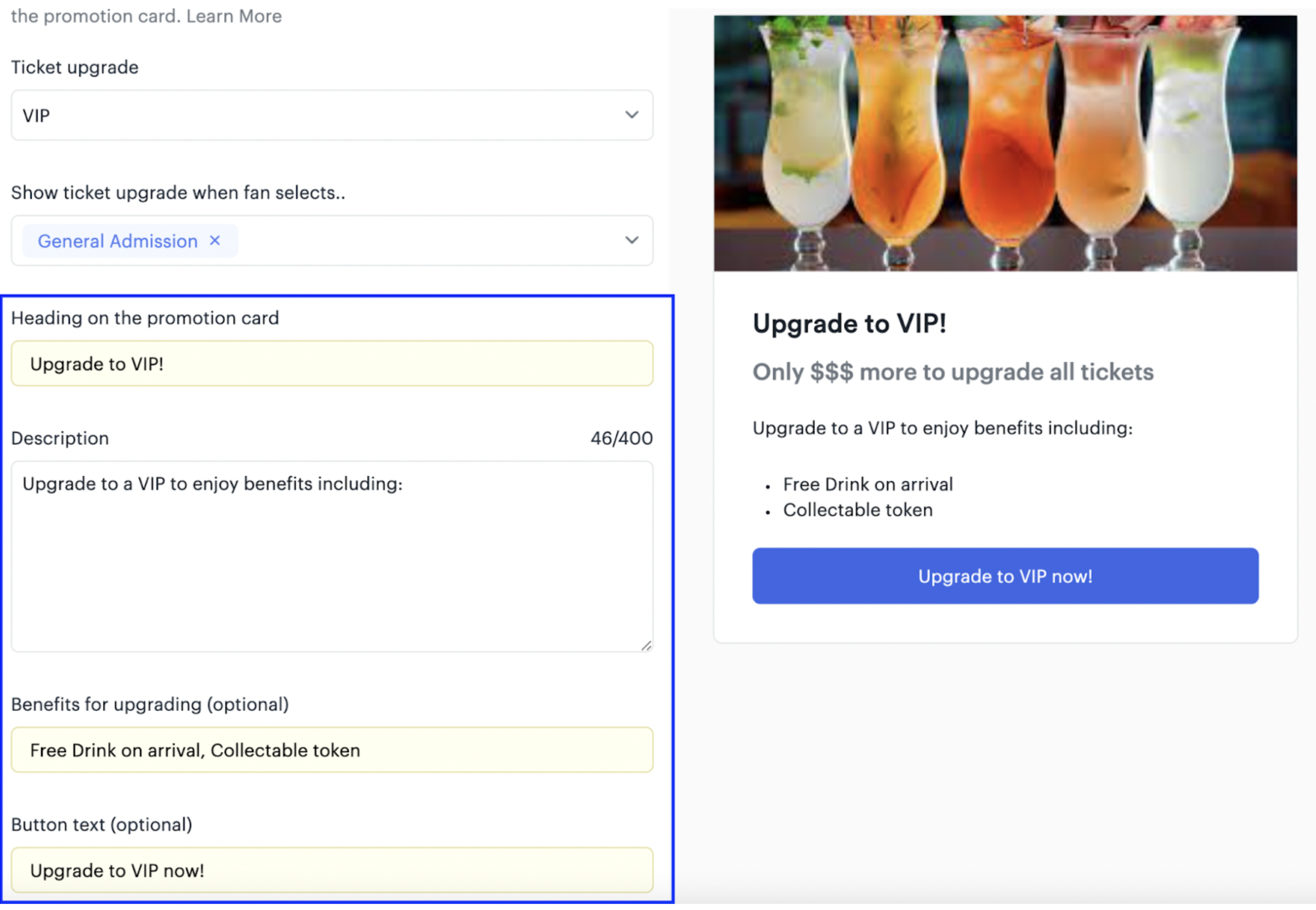 5. Make sure to 'Complete' the upgrade flow to enable the feature. After enabling the ticket upgrade configuration, buyers who choose to upgrade their ticket(s) in the checkout flow will have their cart updated.