Emails about ticket purchases for your event can be sent as a summary email (default) or individually for each booking. This can be changed at any time.
The summary email is sent based on the following 3 factors:
The first bookings you receive have a short aggregation window
Bookings that are in a short window before your event triggers notifications instantly
Other booking notifications are sent less frequently so that your inbox isn't flooded – however, the summary is sent at a minimum of once per day

To set your ticket purchase notification preference:

1. Log-in to your Universe account, go to your My Events page, and select the event you would like to manage.

2. From your Event Editor, select the 'Advanced Settings' button from the menu along the left side of your listing. Then, scroll down to the 'Email Notifications' section.

3. In the 'Notify Me Of Ticket Purchases' section, click the dropdown menu and select your preference, either Intelligently grouped into digests or Individually, as soon as they happen. Or, use the toggle to turn off emails completely.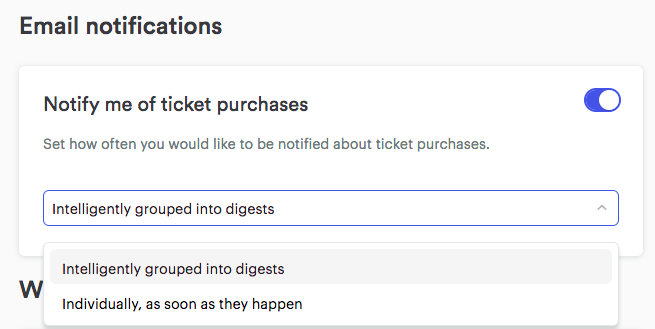 4. Save your changes in the top left corner of your screen.