Set up an additional fee to be charged per ticket for your event. Buyers will see the fee in the cost breakdown when purchasing a ticket and the funds collected from your additional fee will show in a separate column in your reports.

To add an additional fee:

1. Log-in to your Universe account, go to your My Events page, and select the event you would like to manage.

2. From your 'Event Manager', click the 'Payments & Fees' tab on the menu down the left side of your screen. Once selected, a dropdown menu will appear.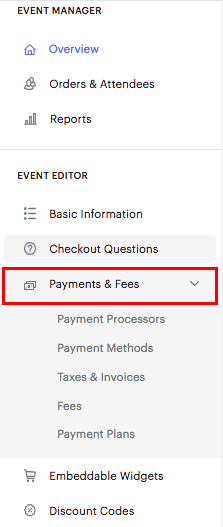 3. From the menu select 'Fees.' On the page on the right hand side locate the 'Additional Fees' section, and click 'Add a new fee'.




4. Once selected, additional fields will appear. Enter the name of the fee and amount that you would like to charge.

5. Save your changes.
Note: Additional fees will only apply to ticket purchase, they do not apply to add-ons.