Easily send a message to your guests directly from your Universe event page. Choose to message all attendees*, select guests, by ticket type or registration date.

When a message is sent, the recipient will receive an email with your message and can log-in to their Universe account at any time to respond (if needed).

Note: Tickets that were purchased using the host email address will not receive an email when using the 'Message Attendees' feature.
*

Warning: Please note that there is currently a 1,000 recipient limit on the Message Attendee feature. Any user attempting to message more than 1,000 guests at a time will receive an error, and their messages will be unable to deliver. Please feel free to contact support@universe.com for further information.
For additional mailing options, we also recommend integrating with MailChimp.
How to send a new message to a fan:

1. Log-in to your Universe account, go to your 'My Events' page, and select the title of the event you would like to manage.
2. From your event's 'Manage' page, select the 'Orders & Attendees' option from the menu down the left side of your screen.
3. Select the 'Attendees' tab then click on 'Message Attendees' tab.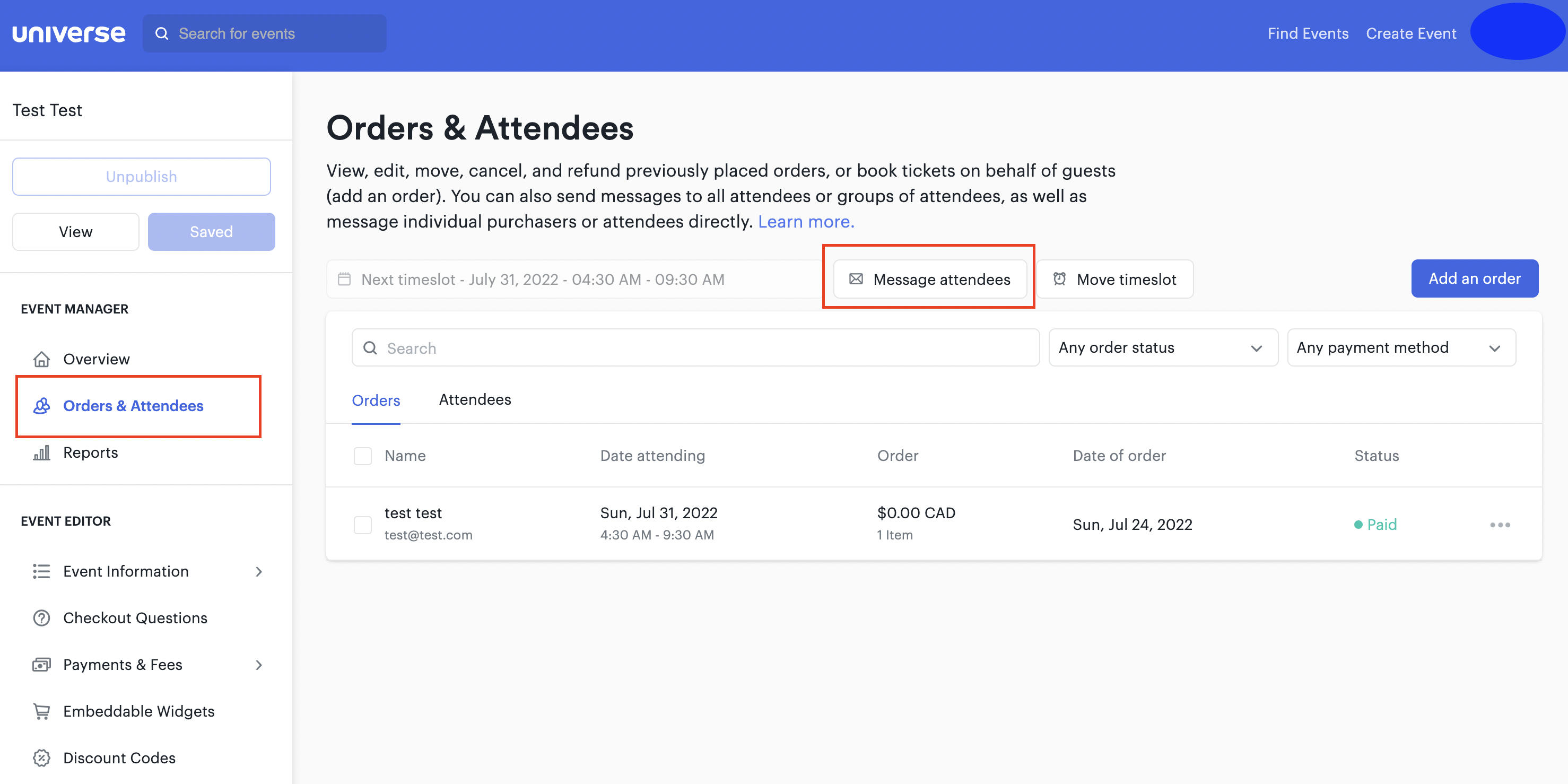 4. After clicking on the 'Message Attendees' tab, a new window will pop up allowing you to send a message to your guests: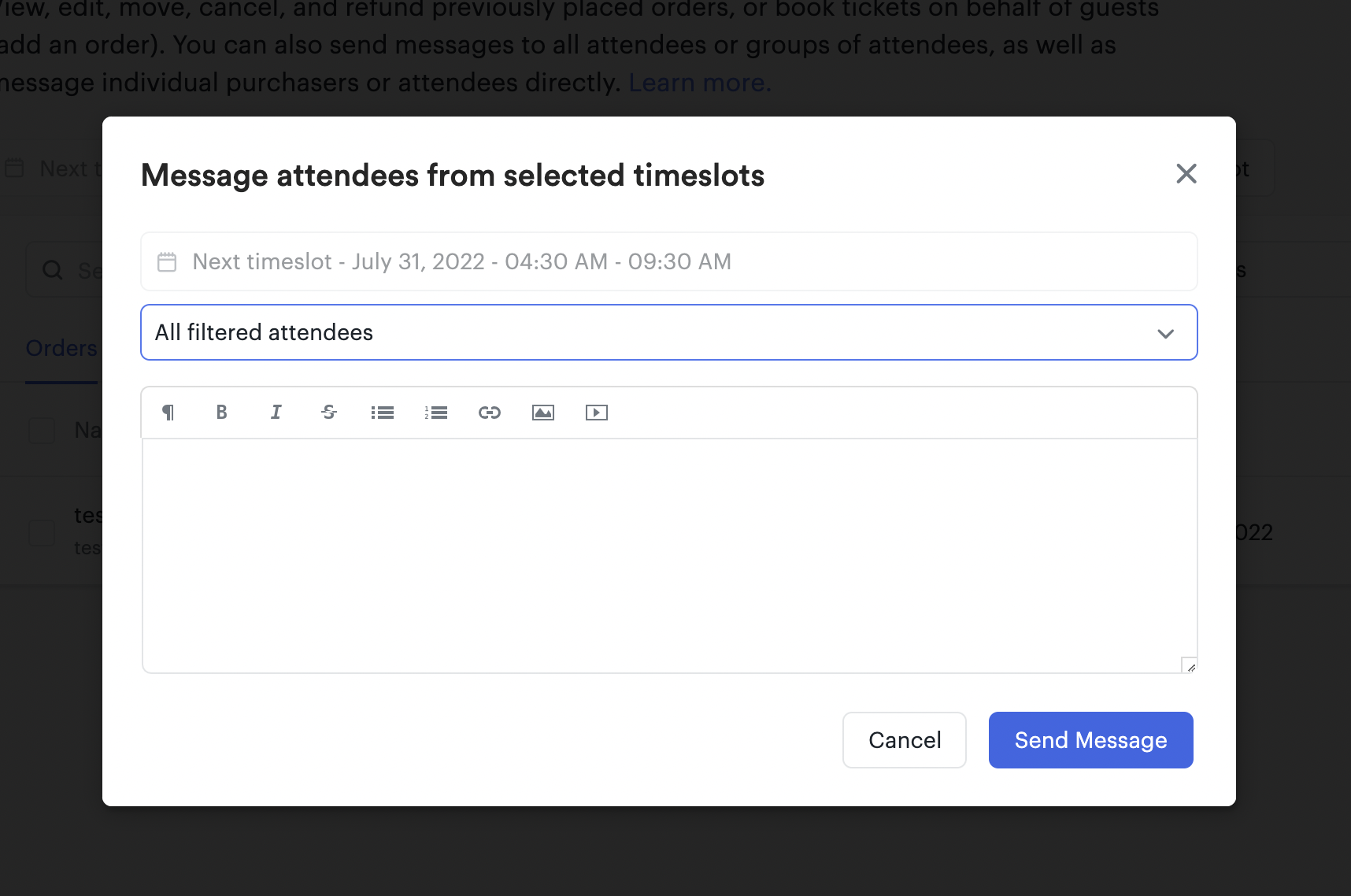 Note: At this time, there is a recipient limit of 1000. When selecting "All Filtered Attendees" please be mindful of how many guests are attending your event.
5. For events with multiple timeslots, you can select a specific timeslot with the guests you would like to message, or message attendees across all timeslots. If a specific timeslot is not selected the window will default to 'All Timeslots'.

Warning: 'All Timeslots' includes every timeslot on your event, both past and future. For long running timed-entry events with many timeslots, this can result in messaging attendees who attended your event a long time ago.


6. You are able to filter your guests by ticket type, registration date and approval status.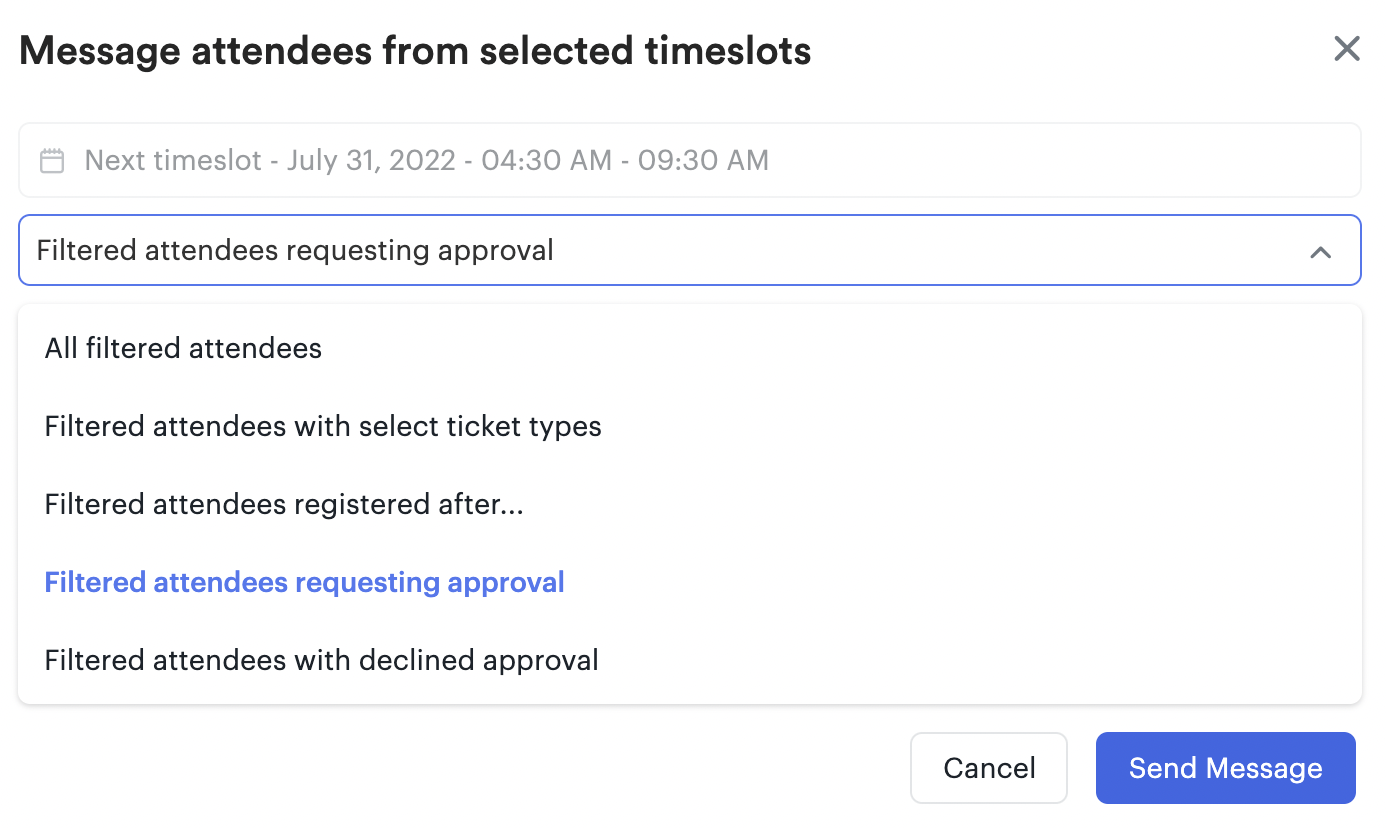 7. Type your message in the pop-up, and click the 'Send Message' button.
How do you reply to a fan message?

1. Navigate to the 'Messages' page from the site navigation
2. Select a conversation from the list of messages
3. Type your message and hit 'Send' when you're ready

Note: if you suspect any spam activity, please use the 'Report Spam' button found at
the top of the Messages window to block the sender.

Event hosts can also manage fan inquiries off-platform, if they feel more comfortable in
their own inbox or customer service solution.

They can do so by clicking "reply" to the "Customer Name sent you a message on
Universe" email in their own email inbox.
Note: any conversation had between the event host and the fan would not be recorded
in the Universe Messages section. Only the initial fan message would display.

Who gets fan message emails?

- Only the primary account holder will receive/have the ability to reply to fan
messages. If a team member goes to their 'Messages' page, they will not have
the same view of messages as the primary account holder.

Who can message fans?

- Primary account holders can send new messages from the Orders and
Attendees page, as well as replying to fan messages from the 'Messages' page.
- Teammate users can only send messages to fans from the Orders and
Attendees page.

Note: the name of the sender will be the same name that is associated with their
Universe account. If a teammate user is sending a message to a fan, the name (along
with their email address) associated with their personal Universe account created
during the registration process will appear to the fan.

How does the message functionality work when Universe is managing your fan
support?

- For hosts who are using our Fan Support team to manage any of their event's
fan inquiries, our team will send out messages to fans on behalf of the host. If a
fan replies back to the message, that message will go directly to our fan support
team instead of the host's inbox.
- Hosts will be able to see outbound messages through the 'Messages' page
(located in the site navigation), but will not be able to view any of the fan replies.