Universe charges a per-ticket service fee for all paid orders in our system.

If you are using our payment processor, Universe Payments, to process payments for your event, a payment processing fee will also be applied.

If you are using your own Stripe account to process payments, the processing fee will be charged to you by Stripe and not passed on as a Universe fee in our system. Learn more about payment processing preferences.

Pricing varies by currency and location.

To set who pays the fees for your event:

1. Log-in to your Universe account, go to your My Events page, and select the event you would like to manage.

2. From your 'Event Manager', select the 'Payments & Fees' option from the menu down the left side of your screen and then select 'Fees'.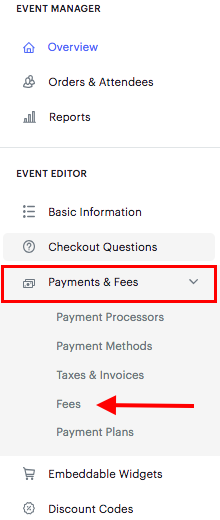 3. Locate the 'Fee Structure' setting on the right side of the page.



4. From the drop down menu select either 'Pass fees to the buyer' or 'Absorb fees into the price'.

Note: If the option to recharge the Universe fees to the buyer using the 'pass on fees' function within Universe is not available in your location, (please see below for a list of locations where passing on fees is not available), you may still recharge the fees by adding an additional fee.
5. Save your changes.


Passing on fees functionality - Virtual Events
As of December 20th 2020, the Universe fee is absorbed into the ticket price by default for virtual events in all locations. If you would like to pass the Universe service fee on to your buyers, you can do so by adding an additional fee to your event.
Passing on fees functionality - Locations Not Available
Due to potential differences in tax rates that may apply to the fees charged by Universe to you, the Host, and by you to the Buyer when passing fees on, this default setting has been removed in the below locations. Instead you may pass on fees by creating an additional fee. Click here for steps on setting up an additional fee.
The ability to pass on fees to buyers is not available in the below locations:
Location
Austria
Belgium
Finland
Germany
Netherlands
Norway
Sweden