Setting up Payment Plans for your event will allow buyers to pay for their purchase in instalments over time. If this feature is enabled on an event, buyers will have the option to opt in to a payment plan or pay in full right away.
Note: Payment plans are currently not available for events taking place in Europe.

Requirements:
Payment plans are set up per date on an event page and the event MUST be at least 30 days away for the payment plan to be enabled. Once you have enabled a payment plan for your event, you cannot change your payment processor between Universe Payments & Stripe.

You'll set the number of instalments on the payment plan and the date of each Milestone Payment, as well as the cut off date for the last day to opt in to the payment plan. Milestone Payments must have at least 7 days between them.

If ticket transfers are enabled on your event, orders on a payment plan are NON-TRANSFERABLE until the order has been paid for in full.
Fees:
If a buyer opts in to a payment plan, there will be a non-refundable fee to do so (varies by currency). This fee is added to the first payment instalment, and communicated to the buyer before they confirm their purchase.
Note: When using Universe Payments, the Universe Service fee will be calculated on the entire order and divided between each instalment. However, when integrated with Stripe Connect, the payment plan fee and all universe service fees are applied to the first payment. Please note that there are additional Stripe Connect fees applied to all instalments.

Non-refundable Payment Plan fee per currency:
USD = $15
CAD = $15

Payment failures, expired cards, and payment defaults:
When opting in to a payment plan, the buyers card will be stored and automatically charged on your set Milestone Payment date(s). When the buyer's card is charged, if the payment fails, the buyer will have 10 days to pay the instalment and correct the failure. They'll receive a reminder if this has not been done within 7 days. If they fail to do so, their purchase will be cancelled and the funds that have been paid returned to the buyer's bank account with the exception of the non-refundable payment plan fee.

If a buyers card is set to expire before all instalments are paid, they'll receive a reminder before the Milestone date to update their credit card details. Failure to do, will result in a failed payment on the Milestone date.

Buyers can update the card on file and pay off any instalment at any time.

Reporting and ticketing:
The order will show up in your reports as the full order and all tickets will be issued after the first payment. If we are not able to collect all funds from the buyer, their order will be cancelled and their ticket(s) will not be valid at your event.

Set up Payment Plans for your event:

1. Log-in to your Universe account, go to your My Events page, and select the event you would like to manage.
2. From your 'Event Manager', select the 'Payments & Fees' tab from the menu down the left side of your screen



3. From the additional options that appear select 'Payment Plans'.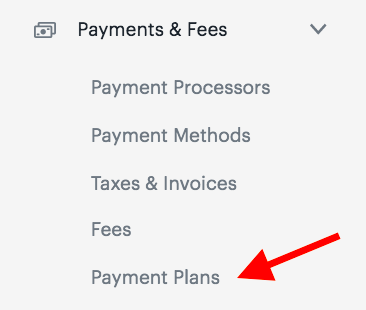 4. To start a payment plan, select your event date you would like to start a payment plan for. Once selected, click the 'Add Payment Plan' button.

Note: Payment plans can only be started for dates that begin more than 30 days from the creation date of the plan and any date on your event page that is starting within 30 days will not show up on the list.

5. Next, configure your plan:
i) Set the number of payments: Set the number of automated payments the buyer's order will be split across. You can choose between 2, 3, 4, or 5 instalments.
ii) Set the cut off date: This the final date buyers will have the option to pay for your event with a payment plan.
iii) Set the payment milestone dates: Set the date(s) your buyers card will be automatically charged for an instalment. These dates MUST be at least 7 days apart and the final payment MUST be at least 14 days before the start of the event. If a buyer is purchasing a ticket after one of the milestone dates has passed, they'll be prompted to any instalment with a Milestone Payment date in the past along with their initial payment.

Note: Not all details of your plan can be changed once set.

6. Click 'Save Plan'. Saving your Payment Plan configuration will enable the Payment Plan on your listing. Once enabled, your payment plan is fully set up.



Disable an existing Payment Plan on your event:
1. From the 'Payment Plans' page, click the three dots underneath the 'Actions' column and select 'Disable' from the dropdown menu that appears.



Buying tickets on a Payment Plan:
The purchase process is the same whether paying in full at time of purchase or using a payment plan. On the checkout page, buyer will have the option 'Pay with Payment Plan'. When a buyer selects that option, they'll see a the details of your plan, how many payments and milestone dates, the order total, and what they'll pay in the first payment.