Follow the steps below to withdraw your funds if you have already set up your Universe Payouts account. If you are withdrawing funds for the first time, take a look at our guide: Withdraw your funds from your Universe account balance.
To withdraw funds after you have already set up your account:

1. Sign in to your pay portal at www.universe-payouts.com and then select "transfer funds".


To add a transfer method:

1. Click "add new transfer method" in the "transfer" tab.


Note: Funds can be requested via direct deposit (worldwide), PayPal (worldwide), check (US only) or wire transfer (available for select currencies). Wire transfers are subject to a $20 fee that will be deducted from the amount transferred from your Pay Portal when applicable.


2. To add a transfer method, select your settings (location/currency & method) and click 'continue' and enter your payout details on the following page. Click 'Continue'. You'll be prompted to review your information before saving the transfer option to your account. You can add multiple transfer methods to your account if needed.
Warning: Adding a transfer method will not withdraw funds to that destination, you'll need to explicitly send funds to one of your transfer methods added to your account.

3. Once you have added at least one transfer method, you can request your funds at any time. Transfers can be set to be done manually or automatically.

Manual Transfer: Each time you withdraw funds from your Universe Payouts account, you'll be prompted to enter the amount you would like with withdraw and which transfer method you would like the funds sent via.

Auto Transfer: If you have enabled auto transfer, all funds added to your Universe Payouts account will be automatically sent via that transfer method once funds are added to your account. You can set up basic transfers (100% to one transfer method) or Advanced (customize the percentage of your funds are sent to which transfer method and/or when funds are sent).

4. Select your preference to set up Auto Transfer for your account or manually request your funds. Once done, you will receive an email confirmation and your funds will be sent shortly.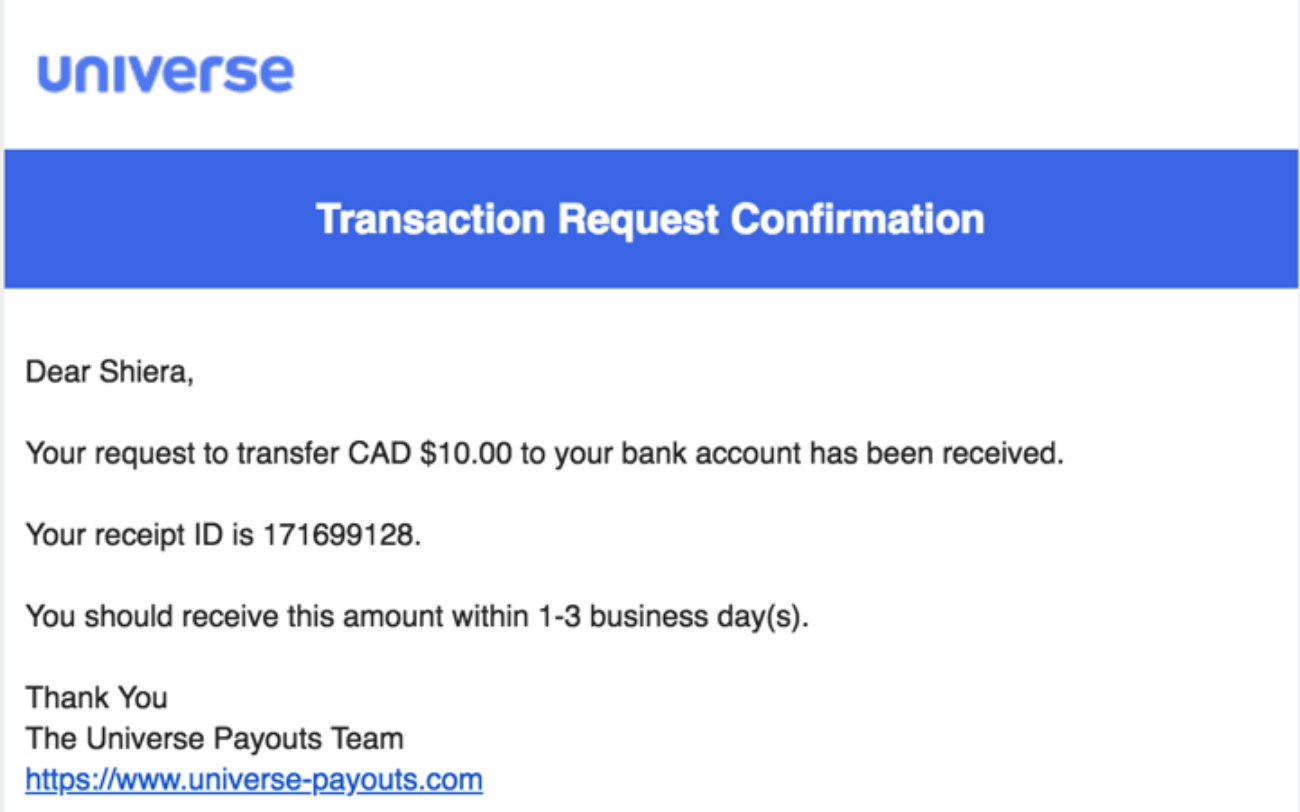 If you have questions regarding your Universe Payouts account, FAQ's and contact information can be found here.
Warning: Funds that are not transferred after 3 months are subject to a dormancy fee, to be charged monthly until funds are transferred out of your Universe Payouts account.