This article is intended for hosts who are processing their payments using Universe Payments. More information on the different payment processing options can be found here. For more information on how to withdraw your funds from your Universe balance, please refer to this article.
Timeline of withdrawing funds using Universe Payments:
1. Your funds will be available to withdraw 48 hours after your event is over. Once the funds are in your Universe Dashboard, you can request to withdraw the entire sum or any sum over $10. It takes 1-2 business days to approve your withdrawal request.
Note: If you request your funds on the weekend, the earliest that your request will be approved is the following Monday.
2. Once your request has been approved, an email will be sent to the email address entered on your withdrawal request to set up your Universe Payouts account.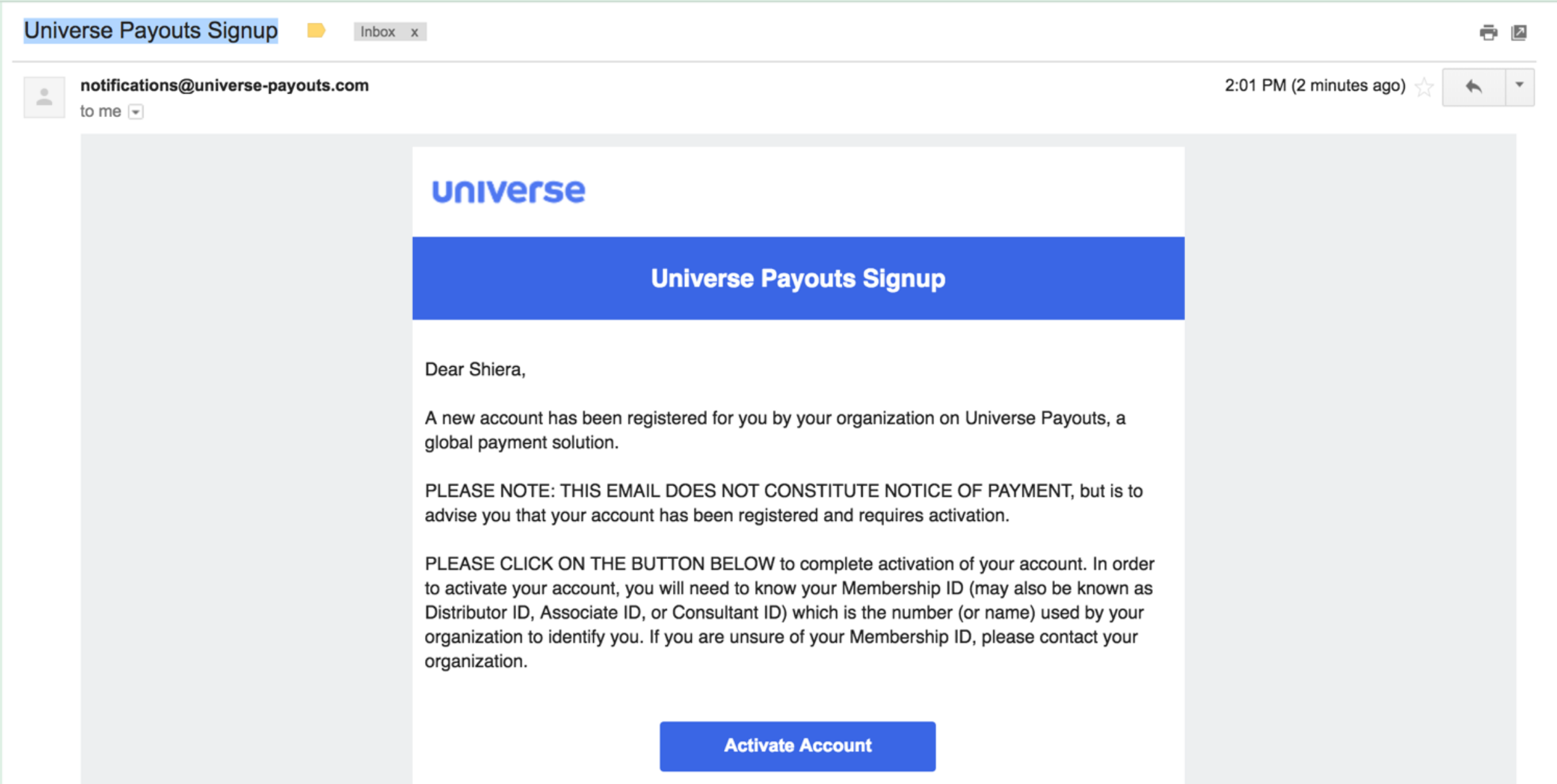 If this is your first withdrawal using your email address, you will need to set up your Universe Payouts account. This takes approximately 10 minutes. You only need to go through the setup process once.
3. Within the Universe Payouts portal, you will be able to select the method in which you would like to receive your funds.
Note: Funds can be requested via direct deposit (worldwide), PayPal (worldwide), check (US only) or wire transfer (available for select currencies). Wire transfers are subject to a $20 fee that will be deducted from the amount transferred from your Pay Portal when applicable.
Depending on which method you have selected, the timeframe of receiving the money will be different:
PayPal (worldwide) - Transfer will be instant

Direct Deposit (worldwide) - 1-3 business days

Check (US only) - 2-4 weeks

Wire transfer (available for select currencies) - Up to 5 days
Warning: All timeframes are approximate as different banks have different timeframes for depositing money into accounts.
Note: Adding a transfer method will not withdraw funds to that destination, you'll need to explicitly send funds to one of your transfer methods added to your account. You can turn on 'Auto-Transfer' so that all future deposits will automatically go to the transfer method selected.