Credit card payments account for only half of transactions made online worldwide. Universe supports many alternate payment methods in order to facilitate sales for our hosts all over the world. See below for a list of which payment methods we accept and where.


Note: The payment methods we accept varies per currency and/or location.
Payment Method

Currency Supported

Visa

All

Mastercard

All

American Express

All

Visa Debit

All

Mastercard Debit

All

Discover

All

JCB

All

Google Pay

All

ApplePay

All; Only works directly on Universe.com, cannot pay through widget using ApplePay

iDEAL*

Events transacting in Euros

Giropay*

Event location must be in Germany

Bancontact*

Event location must be in Belgium or Netherlands

SOFORT*

Event location must be in Austria, Belgium, Germany, or Netherlands

Alipay*

AUD CAD EUR GBP HKD JPY NZD SGD USD

WeChat*

AUD, CAD, EUR, GBP, USD

Union Pay*

USD

Visa Click to Pay

(Formerly Visa Checkout)

USD (Universe Payments transactions only)

Mastercard Click To Pay

(Formerly Masterpass)

USD (Universe Payments transactions only)

American Express Click To pay
USD (Universe Payments transactions only)

Discover Click To Pay

USD (Universe Payments transactions only)

Pay by Invoice

Depreciated. For more information please see our depreciation notice
Note: *If you are processing payments via Stripe Connect, your Stripe account must have these payment methods enabled in order to turn them on for your event.
Warning: There are some countries that are not supported and cannot receive withdrawals. View a list of restricted countries here.
Note: If this feature is greyed out, please click on the 'Contact us to upgrade' button and someone from Universe will be in touch shortly.
To enable an alternate payment method on your event:

1. Head to your event page and click on the 'Payments & Fees' tab in your event editor. Then, click on 'Payment Methods'.



2. Scroll down to 'Local Payment Methods' and select which one(s) you would like to turn on. To activate, click the toggle icon. You will know it is "on" when it turns blue.


3. Remember to save when you are finished.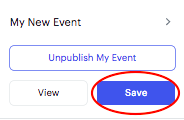 4. You will now see the payment method at checkout for your event.