Integrate MailChimp with your Universe event to have your guests automatically added to a set list when they register. Please note that when you Integrate with MailChimp, guests will receive an automated email from MailChimp, asking them to opt-in to your MailChimp emails.

To set up the MailChimp integration for your event:
1. Log-in to your Universe account, go to your My Events page and select the event you would like to manage.

2. Select Integrations from the menu along the left side of the page.

3. Locate the MailChimp Integration section and add your MailChimp API Key to the MailChimp API Key field.


Note: For information on generating your MailChimp API Key, click here.

4. Once you enter the API Key, you will be prompted to select which of your MailChimp list you would like your event attendees added to.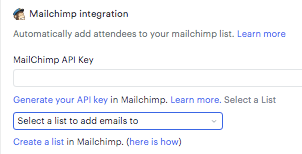 Note: The MailChimp list must already be created in MailChimp. Only 1 list can be linked to an event via our integration. To learn how to create a list, click here.

6. Select 'Save' to finish setting up your MailChimp integration.

Note: The integration will block duplicates from appearing in the list linked to the event, however, it will not block duplicates from appearing in your MailChimp account if you have multiple lists.