What is 3D Secure 2.0?
3D Secure 2.0 – often known by brand names, such as Visa Secure, Mastercard Identity Check, or American Express SafeKey – is an industry standard technology which aims to protect customers and merchants, reducing fraud, and providing added security to online payments.
Why are you introducing this?
Strong Customer Authentication (SCA) aims to make online payments more secure for users and reduce fraud. It is part of the Payment Service Directive (PSD2) as enforced by the Financial Conduct Authority.
Services that take payments from the European Economic Area and the UK, must meet SCA regulation. This is done by implementing 3D Secure 2 (3DS2) or 3D Secure (3DS). 3DS2 adds an extra layer of identity confirmation before the user pays, so that transactions meet the SCA rules.
3DS2 replaces 3DS, which will be deprecated by all major card brands in October 2022. 3DS transactions offer a similar level of protection for users and are compliant with SCA requirements, but 3DS2 is optimised for mobile, and reduces friction for users, leading to a smoother user experience.
How will it change the way I buy tickets?
Nothing will change in the way you buy tickets! However, you may now be asked for an additional verification that you're the cardholder. You may be presented with an authentication pop up similar to the one below as you navigate the purchase flow.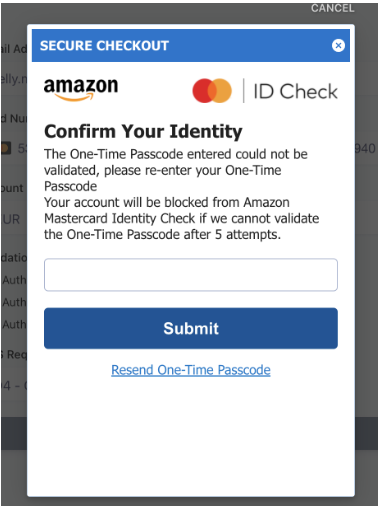 You may receive a one time use code via SMS message to your mobile phone, which you enter on the authentication pop up. These text messages will come directly from your card issuer, not from Universe. You may also receive a code via email or have to verify within your online banking app!
If you're using your mobile phone to make the purchase, you may have the option to verify yourself as the card holder through face recognition or fingerprint.
Do I need to do anything to prepare for 3DS 2.0?
If you've not already done so, please contact your card issuer or log into online banking and make sure your details are up to date. Your mobile phone number will be the most important detail to check, but all details should be accurate. This applies to all cards you use for online purchases.
What happens if I don't get my authentication code or have difficulty checking out?
Please contact your card issuer directly! Unfortunately, Universe can't help with any issues related to authentication of your payment via the 3DS system.
Purchasers must complete the authentication requirement presented by the issuing bank to successfully complete the purchase. The authentication process is determined by the issuing bank and not Universe.