Note:
The card readers mentioned in this article are available only for processing payments in the United States. For at-the-door sales in Canada, the UK, and Europe, please see
Using a Stripe WisePad 3 With BoxOffice to Sell Tickets At-The-Door
Universe supports selling tickets at the door of your event using the Stripe M2 and Chipper 2X mobile card readers. The Stripe M2 and Chipper 2X are battery-powered Bluetooth card readers. The handheld, mobile readers connect to iOS and Android devices and support EMV chip and tap transactions, (including mobile wallets like Apple Pay and Google Pay), as well as magnetic-stripe swipes.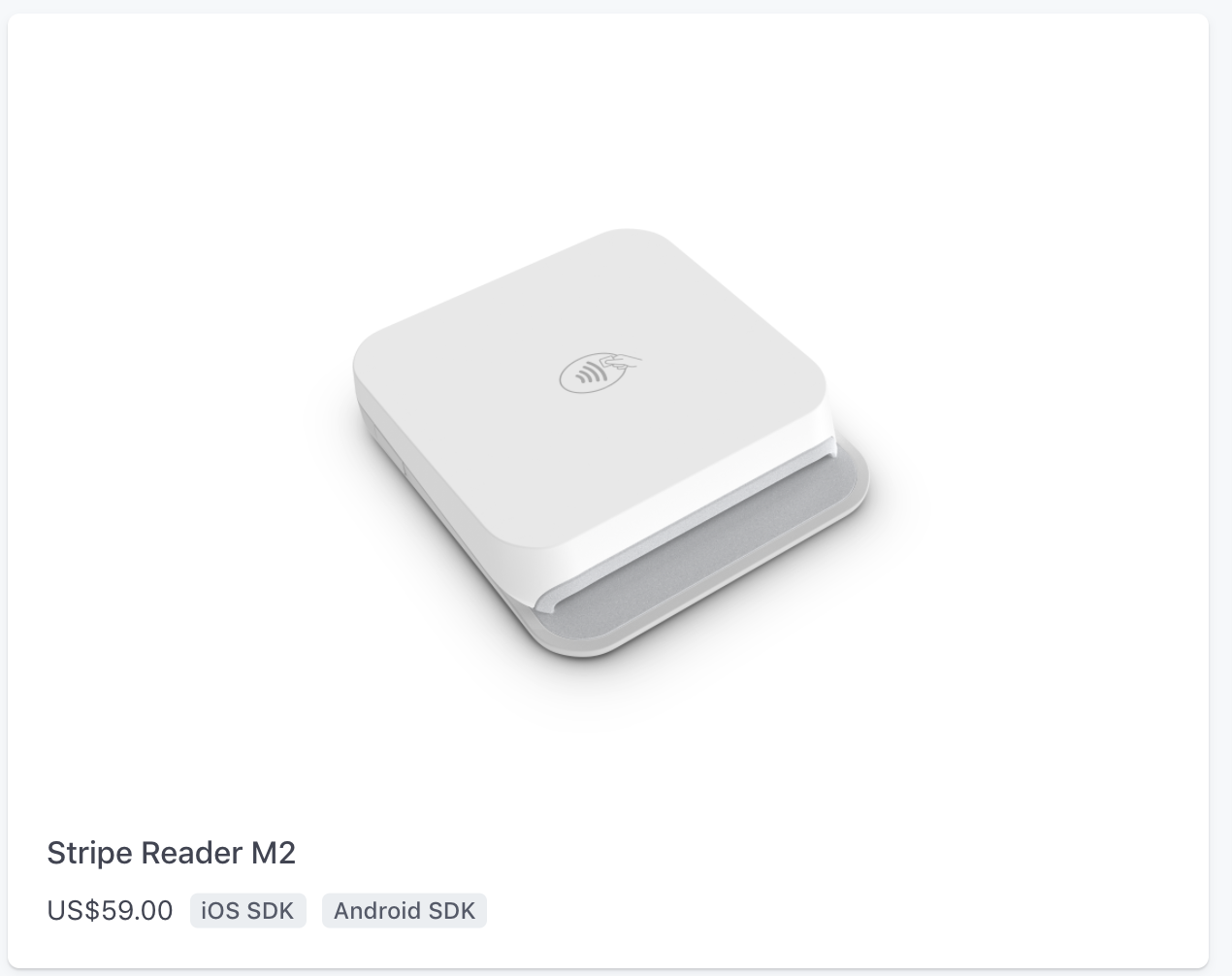 The Stripe M2 card reader costs $59 USD. To purchase a Stripe M2, log-in to your Stripe account, navigate to the Terminal section in your Dashboard and click Shop.
Note: The Stripe M2 is currently only available for use in the US. Hardware can only be shipped to locations within the continental U.S., Hawaii, and Puerto Rico. For at the door payments in Canada, the UK and Europe, we support the Stripe WisePad 3
The Chipper 2X was Stripe's primary card reader before the release of the Stripe M2 reader. It is no longer available for purchase, but existing card readers can be used with BoxOffice without issue. Like the M2 reader, the Chipper 2X can only be used in the United States.
Connect your Supported Card Reader
Important: To use a supported card reader with BoxOffice you must first enable Stripe Connect as your payment processor for both web and terminal sales (learn more here).

Once you have enabled Stripe connect for both Web and Terminal sales, follow the following steps to connect your card reader:
Ensure the Bluetooth function of your iOS or Android device is ON before pairing. Turn on your card reader by pressing and releasing the power button. The status light turns on to indicate power.





Log-in to the BoxOffice app and go to the

Settings

tab, select

Sell and Scan Settings,

select

Card Readers and select either the 'Stripe M2' or 'Stripe Chipper2X' option, depending on which reader you have.


After you have successfully selected your card reader, a PCI Scope Obligation form will appear. Enter the first and last name of the person who will be transacting payments using the device and tap Accept and Connect Card Reader.



Note:To successfully connect a Chipper with BoxOffice you must be processing payments using Stripe Connect (learn more here).



Verify that USD is the selected currency. While holding your scanning device close to your card reader, tap Connect. A prompt will appear asking for BoxOffice to use your location. You must allow location access in order to process payments.
Note: On iOS devices you must select "allow while using the app". Selecting 'Allow Once' or 'Don't Allow' will result in an error.



After allowing location access, your device's serial number will display in the app. Tap Connect again to sync the card reader.


Note: If you are connecting to your Stripe reader for the first time, or for the first time in a while, your reader may need to perform a software update. It will automatically download and install the update after you begin the Sync in the previous step.
Time to update will vary depending on the update size and your internet speed, but it generally completes in 5 - 15 minutes.


Your card reader will now be connected to the app. The card reader's green LED will be ON and your serial number will appear in BoxOffice under the card reader selection. You are now ready to process payments through BoxOffice.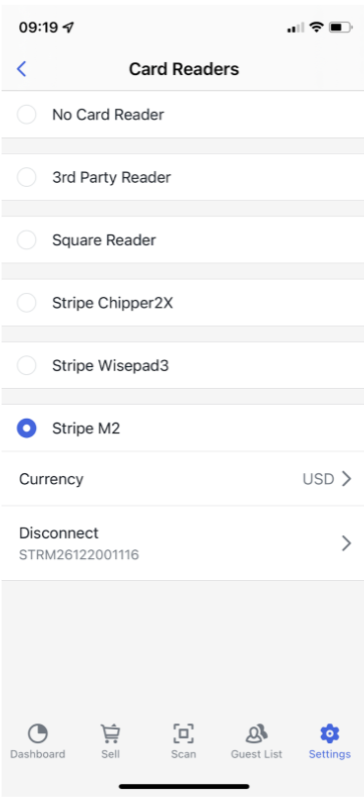 Note: To disconnect a supported card reader from BoxOffice go to the Settings tab, select Sell and Scan Settings, press Card Readers and click Disconnect under the card reader you would like to disconnect. This option will only appear if there is already an active Chipper connection.
Sell Tickets
After you have successfully connected the Chipper, return to the

Sell

tab and add a ticket to your cart. Next, tap

Checkout

, followed by

Credit Card

(for Stripe M2 readers) or

Chipper 2X

(for Chipper 2X readers) as the payment method.




Direct the buyer to swipe, insert or tap their card on the card reader.

Tip: If swiping or inserting a card, ensure that the magstripe or EMV chip of the card is facing the right direction. If using a NFC card, ensure the NFC payment card is within 4 cm (2 in)of the NFC logo.



Fill in the buyer's information (optional). When the buyer is ready to pay, tap

Charge.

Note:The Buyer Information fields become optional at the start time of the event/timeslot. Buyer's first and last names will generally be added automatically when they tap a card. If the email address field is left blank, buyers will not receive a copy of their tickets or receipt. The tickets/order will be attributed to the event organizer's name and email in reports.

Once payment is processed you will see an Order Confirmation

page in BoxOffice where you can check in the buyer's tickets and/or return to the Sell tab to create a new order.
Processing Fees:
Payments processed through the Chipper are subject to Stripe Terminal fees. Currently terminal fees for USD transactions start at 2.7% + $0.05 for most cards, with additional fees for interac debit, international cards, and currency conversions. To confirm the pricing on your Stripe account please see the 'Terminal Section' on Stripe's pricing page
Custom pricing may be available through Stripe for companies with large payments volume or unique business models. (For more information, please contact Stripe sales).
The Stripe Terminal fees will be charged to you by Stripe and not passed on as a Universe fee in our system.
You can create an additional fee that is only applied to tickets sold at the door, and passed to your buyers, in order to recoup Stripe's fees. You can learn more on how to add additional fees here.
Warning: The Stripe processing fee charged by Stripe may not exactly match the additional fees you set up. Find more information on how fees are calculated, here.
Reporting:
All tickets/orders processed through the Chipper will show in your reports. In the Orders and Ticket Reports the Payment Provider column will say Card. The Provider Source Type will show the device OS and card reader brand.
For Stripe M2 Readers the Provider Source Type will be

ios_stripe_terminal_m2reader

or

android_stripe_terminal_m2reader

depending on the device OS.

For Chipper 2X devices it will show as

ios_stripe_terminal_chipper2x

or

android_stripe_terminal_chipper2x

depending on the device OS.
Funds from these orders will be auto-deposited into your Stripe account and paid to your connected bank following your standard Stripe payout schedule.
The Stripe Terminal fees will be charged to you by Stripe and not passed on as a Universe fee in our system. Stripe fees will not be included in Universe reports as the fees are deducted outside of the Universe platform. Stripe's own report offerings will include their Stripe Terminal fees. For more information see our guide on Reconciling Stripe Connect payment processing fees.
Refunds and Customer Support:
All tickets/orders processed through a supported Card Reader will be searchable from the Orders & Attendees page of your event, and from the Guestlist tab in the BoxOffice app. If the name and email address field are left blank at the time of purchase, buyers will not receive a copy of their tickets or their receipt. Those tickets/orders will be attributed to the event organizer's name and email. The best way to search and attribute these orders to the true buyer is searching by the last 4 digits of the credit card used at time of purchase, the date/time of the transaction, and then verifying the total cost, and ticket types purchased.
Refunds can be processed directly through BoxOffice from the Guestlist tab, or through the Orders & Attendees page of your event on Universe.com (learn more here).
Further Resources
Stripe M2 Manual & Troubleshooting Guide