In accordance with regulations governing the provision of financial services, we are required to collect and verify certain personal information from hosts with events that have transacted in EUR, GBP, DKK, NOK, and SEK.This is to streamline the withdrawal process on future withdrawals. This is a one time process, but is mandatory for all Universe Payouts accounts.
How to verify identification on your Universe Payouts account as an organization or business:
1. Log-in to your Universe Payouts account.
2. Your homepage will prompt you to verify your account. To begin this process, click 'Verify Now'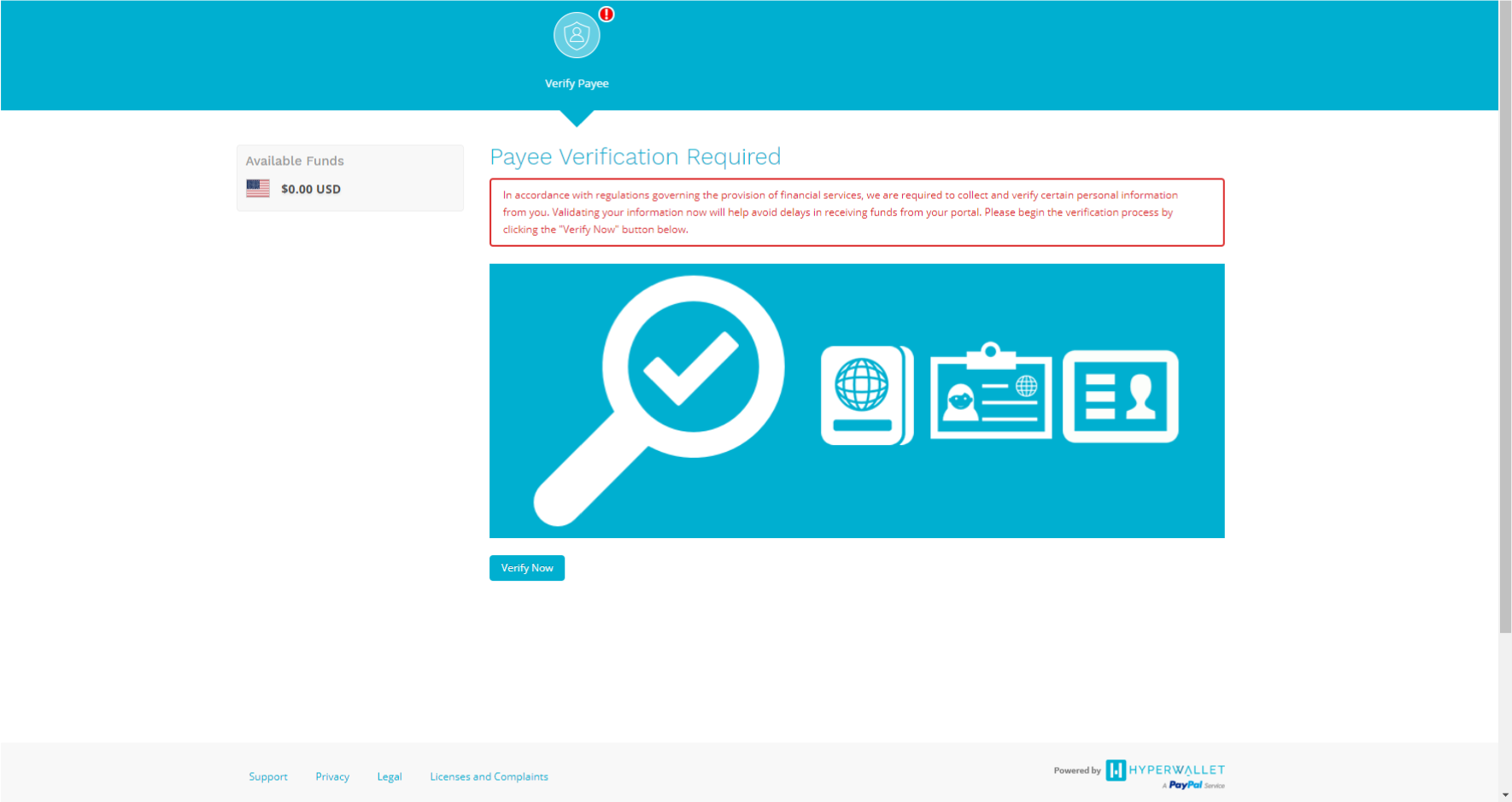 3. You will be prompted to confirm your identity by submitting additional information such as your personal information, contact information, and home address.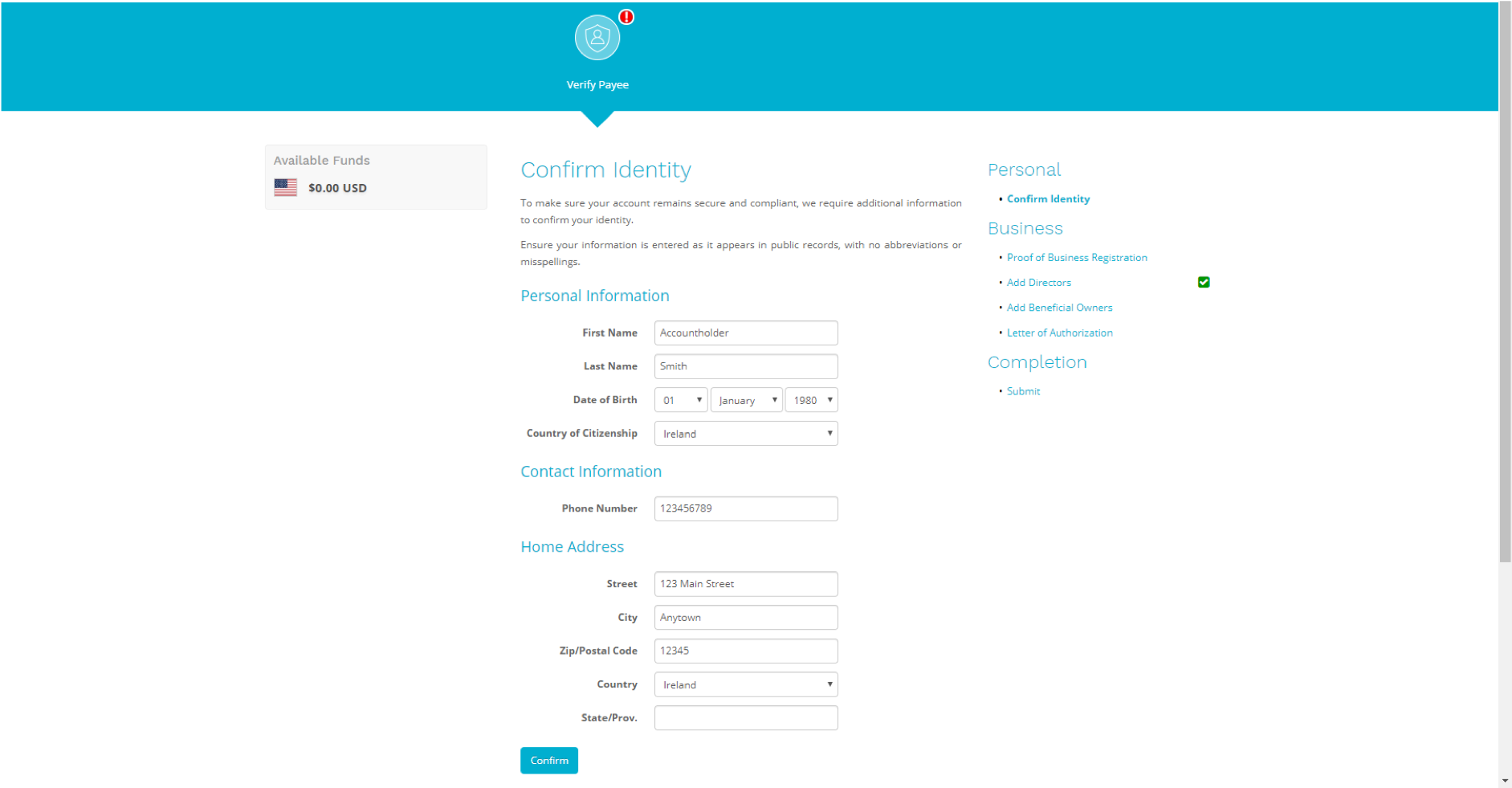 Warning: Please ensure that the name on the account, matches your government ID. If your name is 'Andrew', please do not use 'Andy' as a first name on your profile. If the name on your profile does not match the name on your government ID, your account will not be verified.
4. You will have to submit additional documentation to verify your identification. You will need to submit a valid government-issued ID with your name (first and last), date of birth, and expiry date. Both the front and back of the document must be uploaded.

Note: Only original copies that have been scanned and uploaded with be accepted. Scan of photocopied versions of your government-issued ID will not be accepted.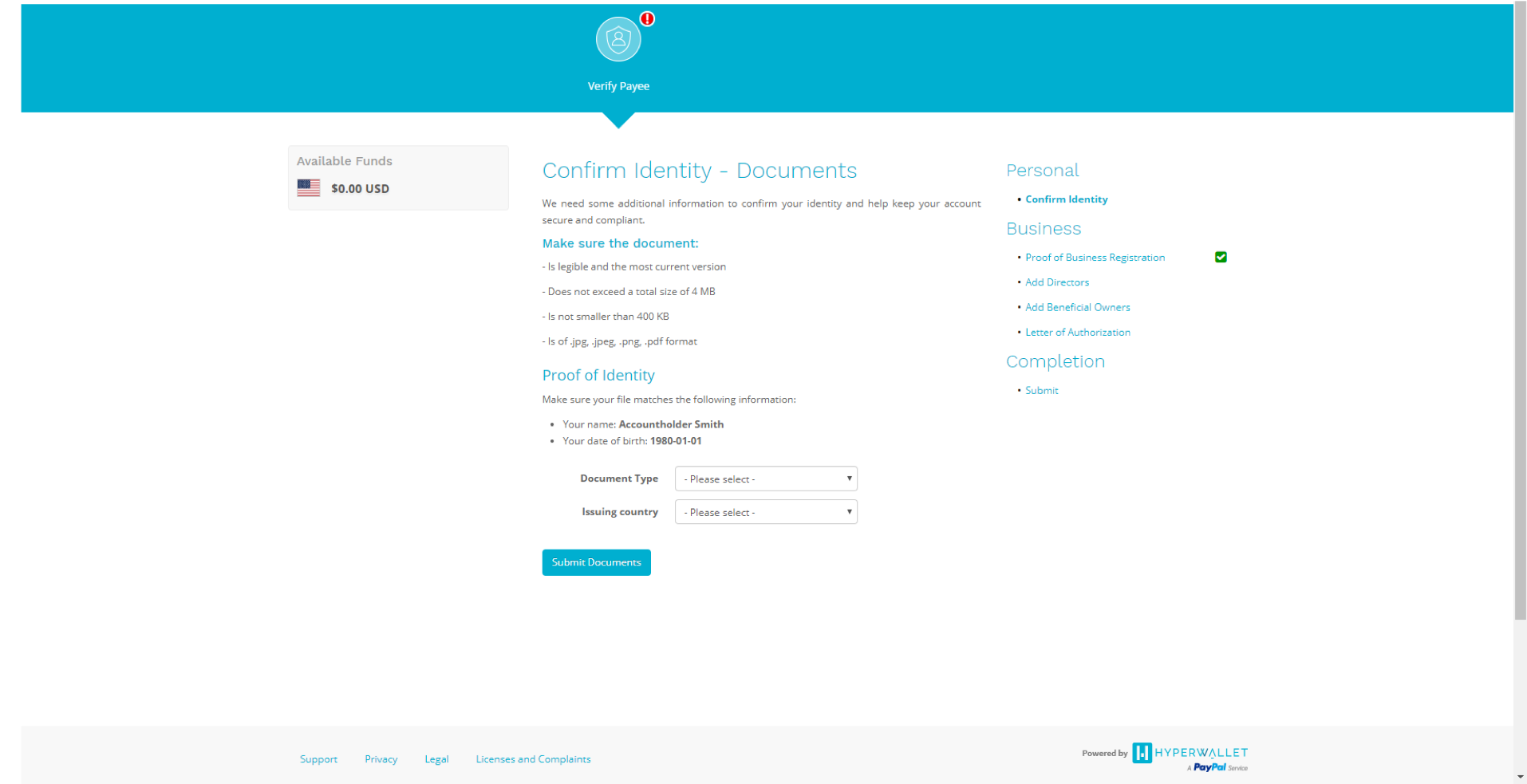 Accepted documents include:
Driver's License

National Identity Card

Passport
Once you have uploaded your documents, click 'Submit Documents'

Tip: If you are experiencing an error and are unable to upload your documents, please select the 'Issuing Country' before filling out any other information on the form.
5. After you have submitted your personal information, you will need to provide proof of business registration which includes general business information, your business registration, business contact information, and business address.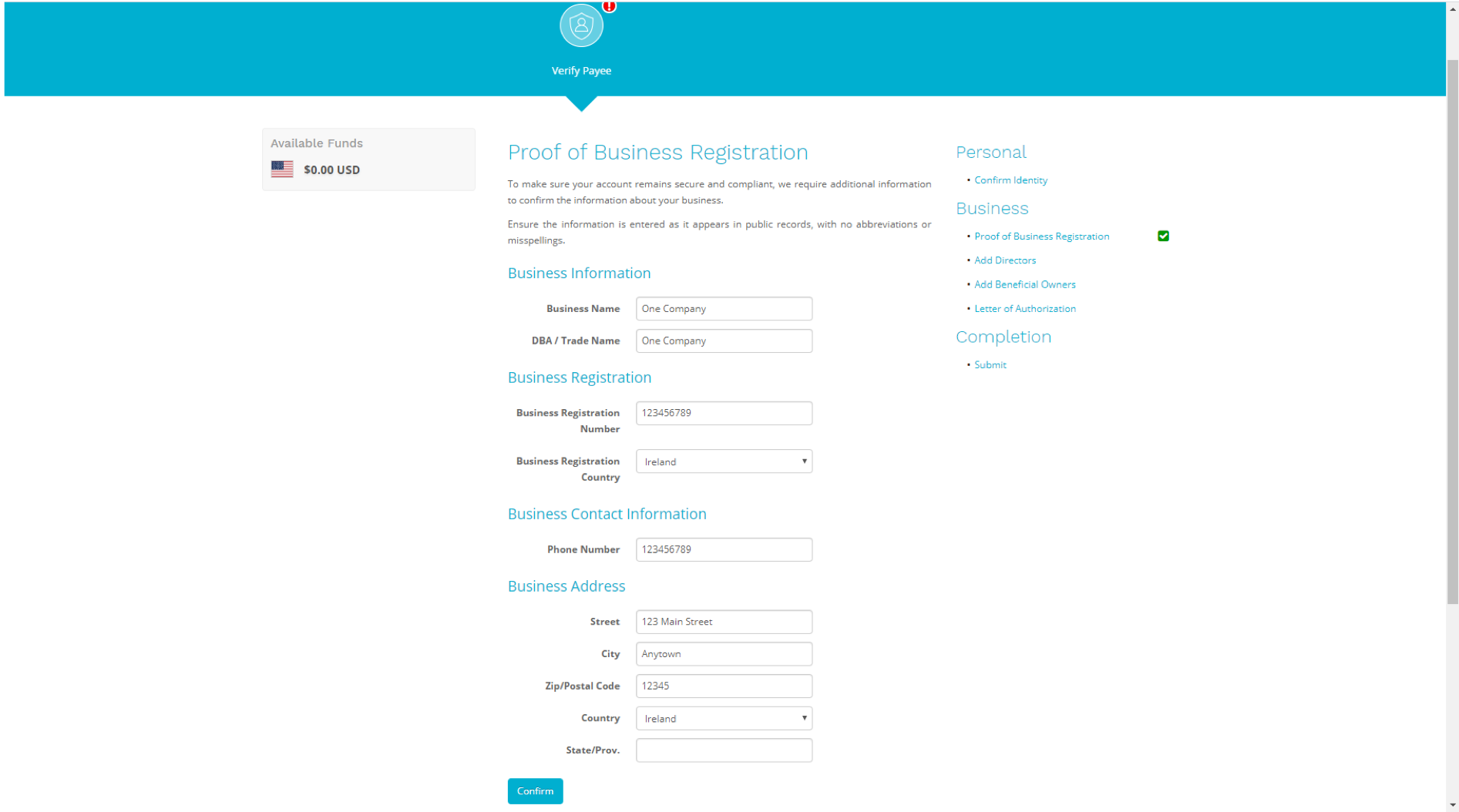 6. Once you have confirmed the business registration information, you will need to submit documentation to verify your business registration.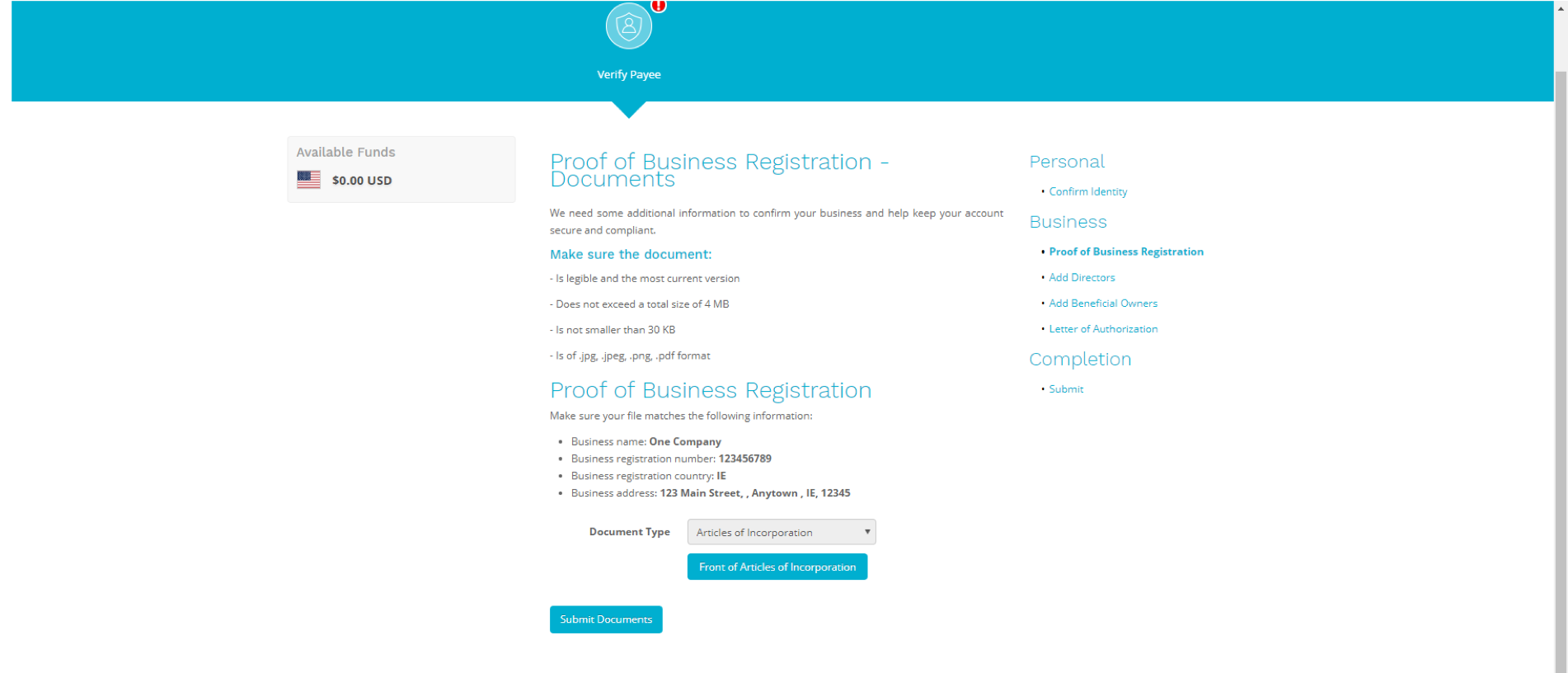 7. Next, you will need to add a a list of directors. These are individuals who are registered as company directors who are responsible for supervising its activities and affairs. To add a new director, select 'Add New' from the dropdown menu.


Note: You can add up to 5 directors, but must have a minimum of at least 1 director added.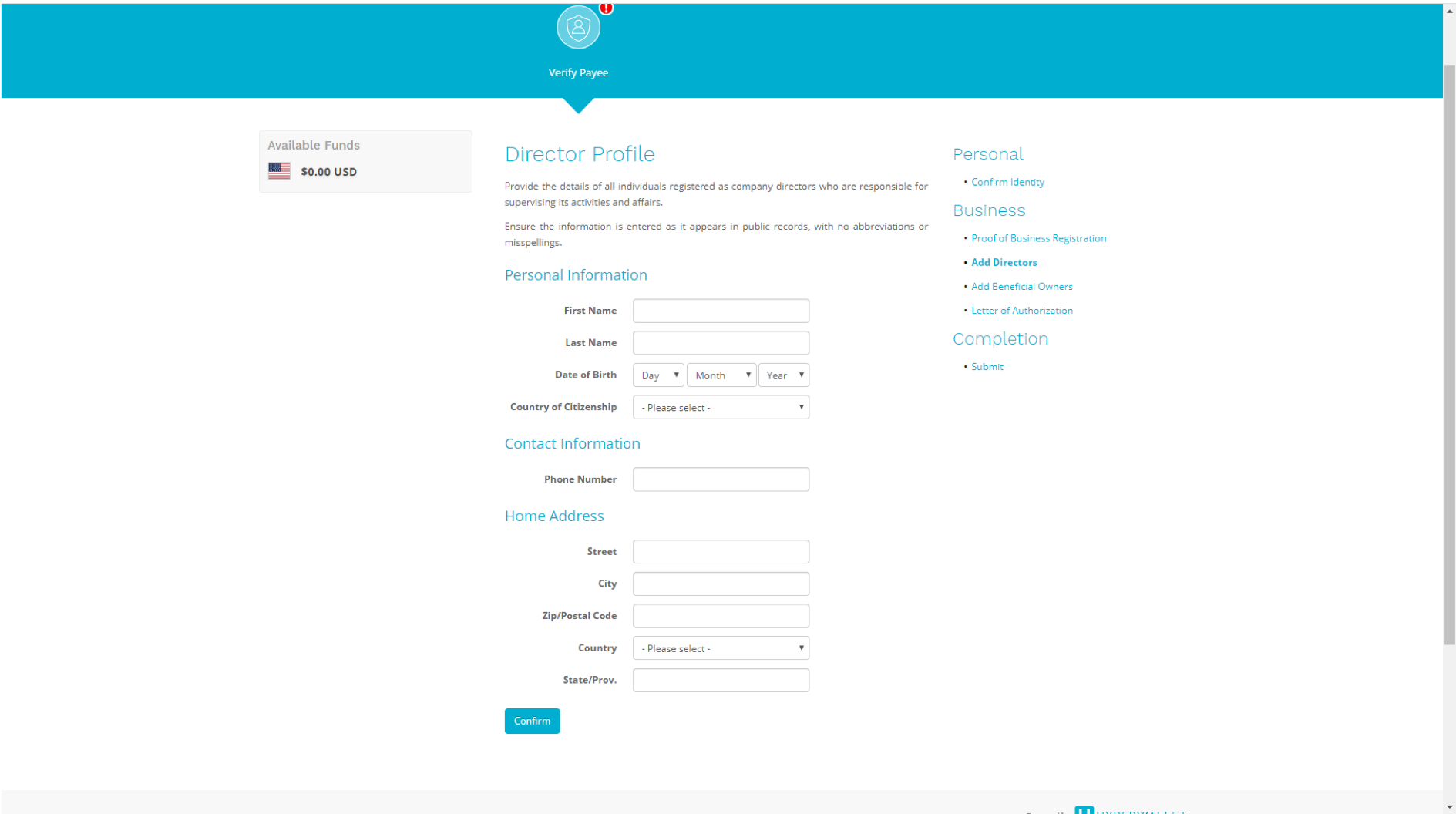 Warning: Please ensure that the name on the account, matches the director's government ID. If there is deviation from their government ID, your account will not be verified.
8. Once you have completed adding in your directors, you will need to add Beneficial Owners to your account. These are individuals who own or control more than 25% of the shares, voting rights or other interests in the business. If your business does not have beneficial owners who meet the criteria, please provide the details for a Senior Management Official, who has voting rights or is in a position to exercise significant authority over the finances and operations of the business.

Tip: If one of the individuals that you added as a Director can qualify as a Beneficial Owner or Senior Management Official, you can simply select their name from the drop-down menu. If none of the individuals qualify, click 'Add New'.

Once you have selected your Beneficial Owner, you will need to submit documentation to verify their identity.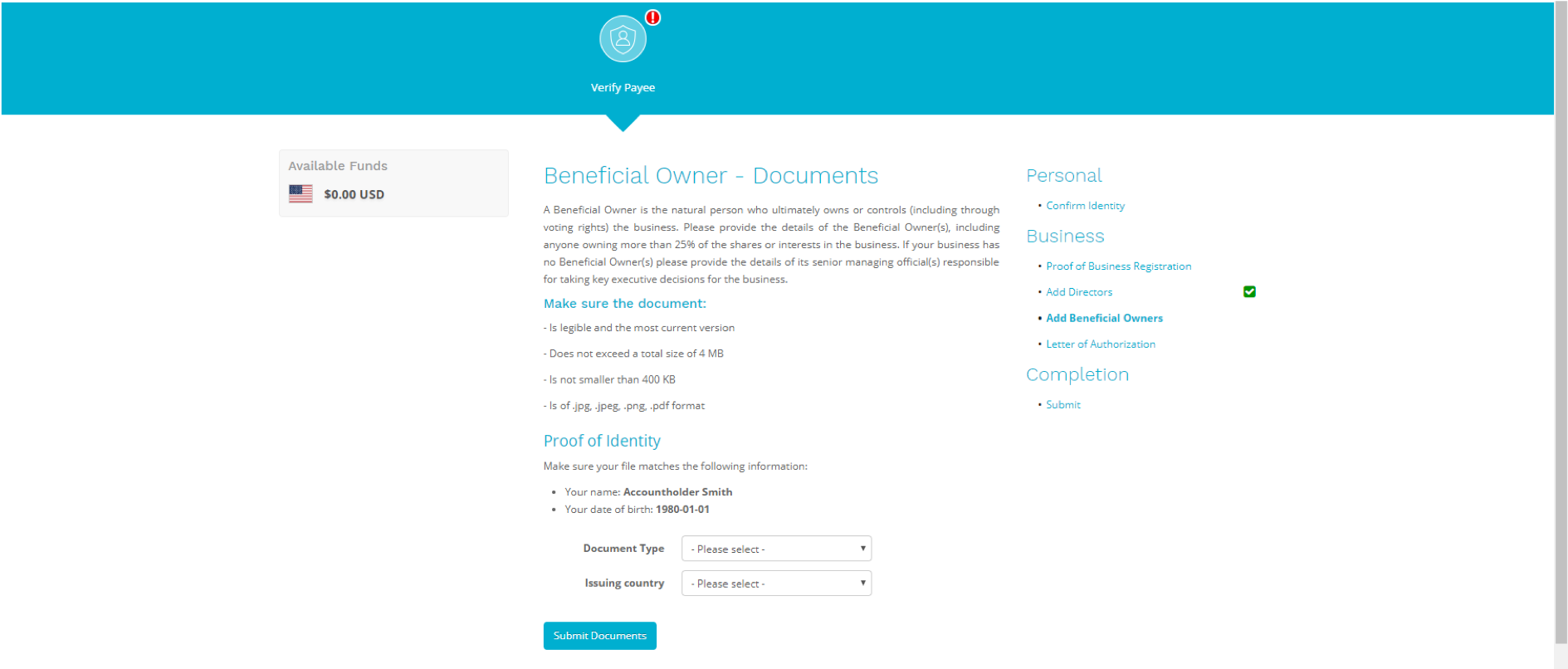 9. Next, you will need to submit a letter of authorization that is signed by an authorized legal representative such as a Managing Director, CEO, owner, etc. This letter will give the account holder the right to act on behalf of the business. You can download a template of the letter of authorization from the widget. Ensure that your company letterhead is affixed to the top of the document and that it includes the name used on your account.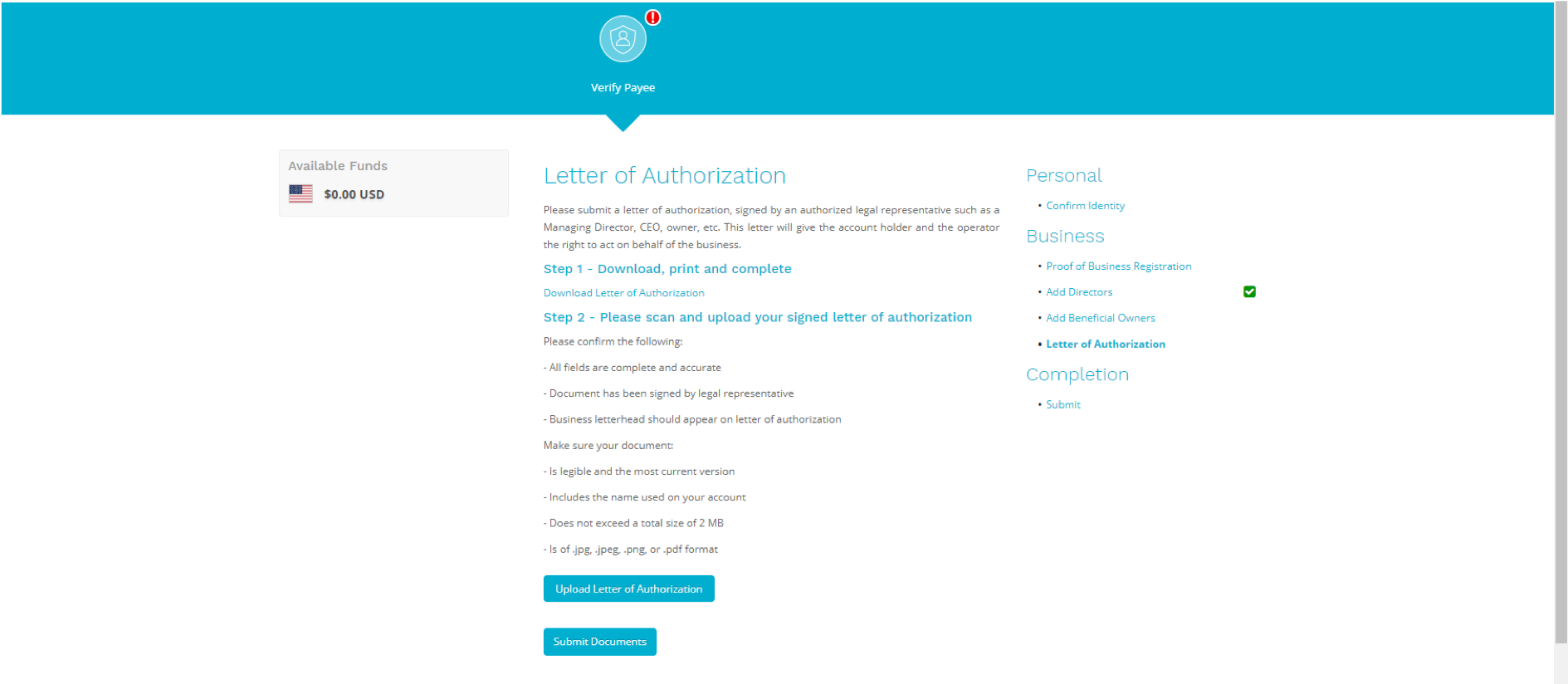 10. As the last step, you will need to review all the information that has been inputted correctly and accurately. Once you have reviewed your application in its entirety, submit your verification by clicking 'Submit'.

Note: It can take up to 2 business days to verify your account. If you require assistance please click on the 'Contact' button on your payouts portal. Alternatively, you can reach a representative by phone.
Live Customer Support Representatives are available:
English: Monday - Friday from 08:00 - 20:00 PST, Saturday & Sunday from: 08:00 – 17:00 PST
Spanish: Monday - Sunday from 08:00 - 17:00 PST
French and Mandarin Chinese: Monday - Friday 08:00 - 17:00 PST
• North America: 1-855-256-2346
• Worldwide: 1-604-638-6662