Ticket confirmation emails are sent automatically to your buyers after a ticket is purchased. Here are some examples of how the PDF ticket, mobile tickets, and order confirmation email will look.
What do your tickets look like:
1. PDF ticket
By default, a PDF attachment of the ticket(s) is included with every order confirmation email. This can be edited at any time from your advanced settings if you prefer not to include the PDF ticket(s).
The image you select for your cover image will appear on every ticket, flipped vertically and aligned to the left. You can add or change a cover image from the design your event section on the event creation form, or the Additional Details tab in the Event Information menu if you've already created your event.
Your avatar and name will show at the top right corner of each ticket. You can change your avatar photo and your name from your Universe profile.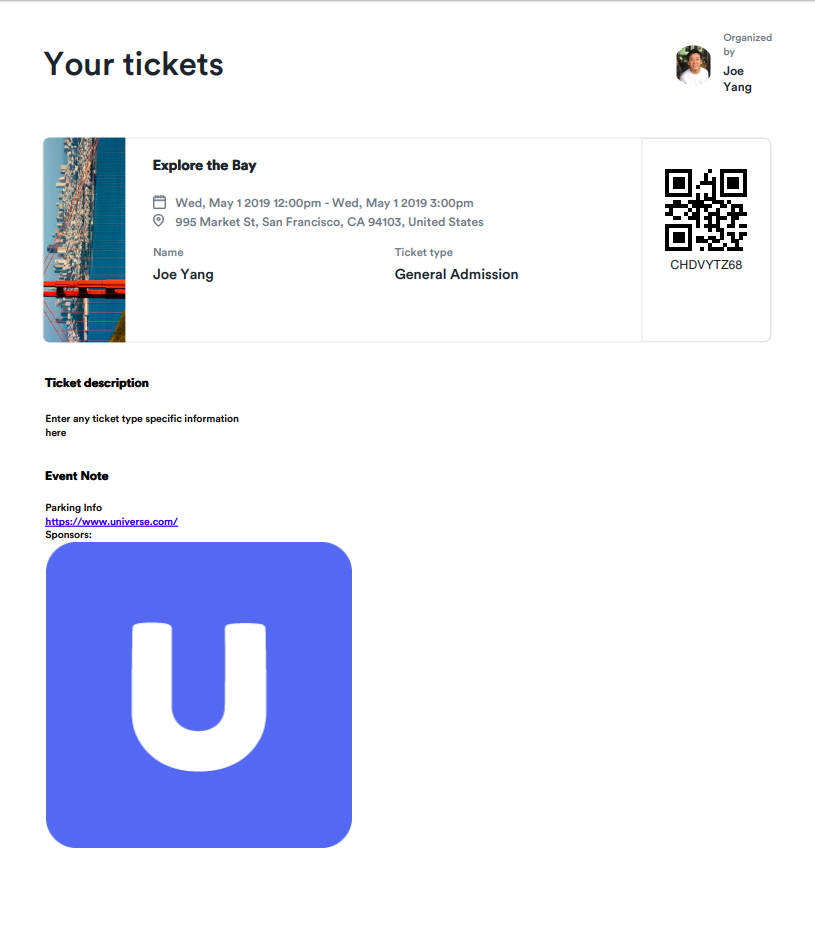 Note: Your 'Additional order message' will show on the ticket PDF under 'Event Note'.
Note: Event notes will only be shown to confirmed guests.
2. Mobile Tickets
As the host, you can download our BoxOffice app to scan/check-in your attendees.
Note: When your buyers are using an iPhone or iOS device, they have the ability to add their ticket to their Apple Wallet.
What does your confirmation email look like:
This order confirmation email is sent to all ticket buyers after a ticket has been successfully purchased.
The subject line will be "Here is your ticket to [event name]", and the email will show your cover image, the details of the event and the barcode for each ticket. Attached at the bottom will be a pdf. of the ticket(s). Buyers will also be able to add the ticket to their Apple Wallet from this email.