The add-ons feature allows you to offer your event attendees additional items (other than tickets) to customize their event experience, and boost your event's success and revenue.
Note: Add-ons can be physical (i.e. t-shirts, parking passes) or additional services (i.e. workshops, VIP upgrades).
During the checkout process, your add-ons will be displayed after the buyer selects their tickets. They will then pay for their tickets and add-ons in one single transaction.
Tip: You can add options and pictures for your add-ons to help your buyers pick the right add-on.
This article includes:
- How to create an add-on
- How to view your add-ons and add-on orders
- How to review the data collected for your add-on
- Team member permissions for add-ons
- Add-on FAQ
How to create an add-on:
1. Log-in to your Universe account, go to your Dashboard page and click on the 'Add-ons' tab.

2. To create an add-on, click 'Create add-on' and enter the details for your add-on. Save as a draft or create your add-on by clicking on the 'create add-on' button at the bottom of your screen.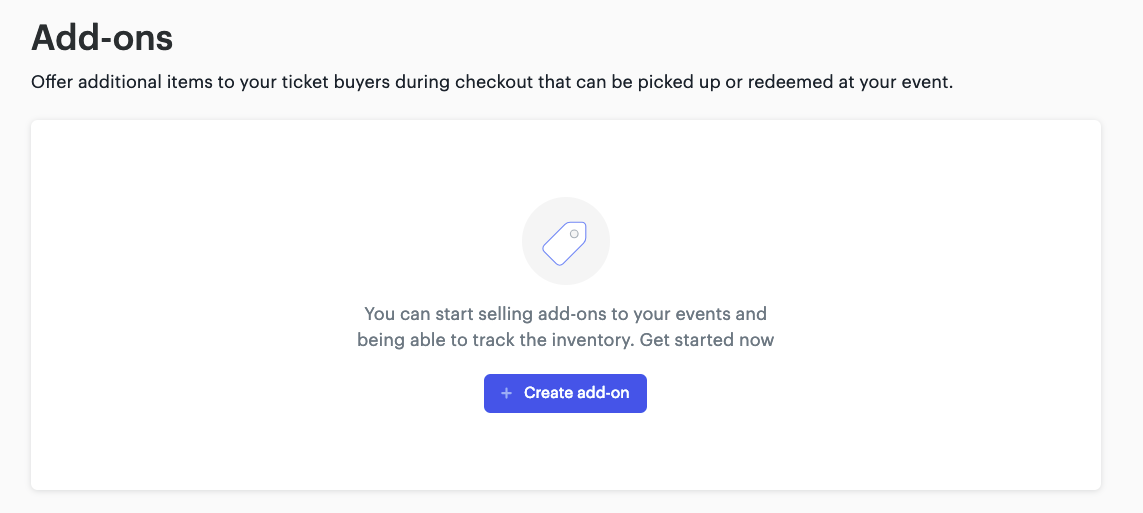 When you create an add-on, you can add the following details:
1. Basic information:
Allows you to create a name for your add-on and provide a description. The description is a great place to describe any details of your add-on as well as where they can be picked up.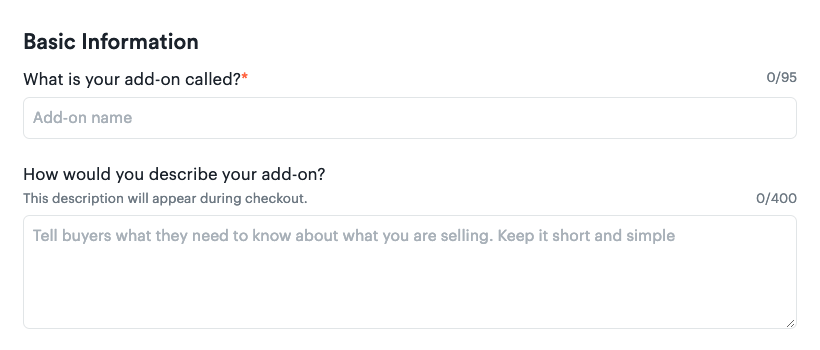 2. Add-on details:
You can set a fixed or unlimited quantity of inventory for your add-ons. The available inventory will decrease automatically as add-ons are sold.

Note: Click 'Add Option' to group different varieties of an add-on together. For example, you can add options to sell small, medium, and large t-shirts as well as food/drink tokens that come either in packs of 5, 10 or 15. Each option has its own inventory level to ensure that you do not oversell a certain option.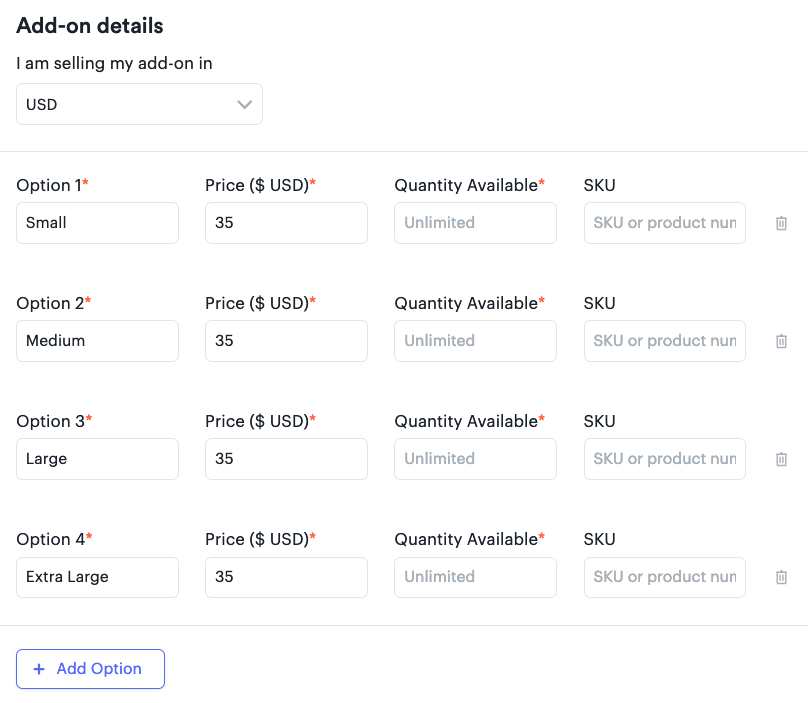 3. Taxes:
Any event-specific taxes or additional fees that you've previously created will not apply to your add-ons, so it's important to add any necessary taxes and/or additional feesfor your add-ons here.
Warning: Charging taxes is at the sole discretion and responsibility of the event organizer. You are responsible for all local tax laws and Universe does not withhold or remit taxes collected on your behalf.

4. Events Selector:
You can either make your add-on available on all your events of a certain currency or available for one or more events.

5. Add-on Photos:
We recommend adding a photo to help sell your add-on.
Note: The dimensions for your add-on photo should be (min 100 x 100 px, Max 2mb)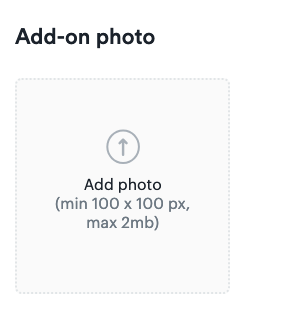 How to view your add-ons and add-on orders
After you have created your add-ons, you can view/manage your add-ons by clicking on the 'Add-ons' section on your dashboard.
1. Log-in to your Universe account, go to your Dashboard page and click on the 'Add-ons' tab.
You will see all your available add-ons, whether they are active or not, which events they are available on, and the current inventory level for that item.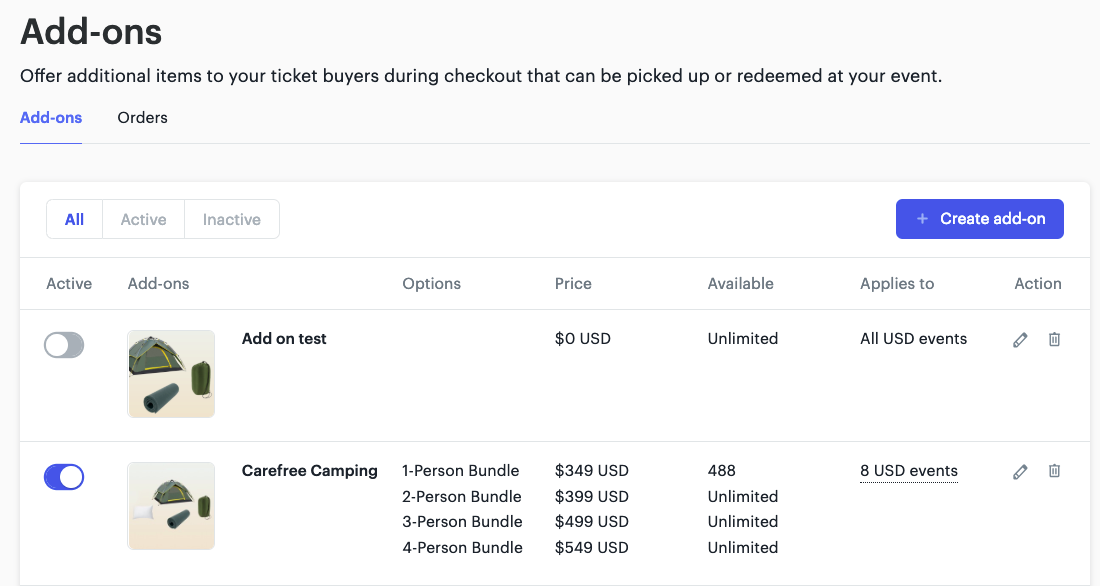 Note: You can filter your add-ons by selecting 'All, Active, or Inactive' towards the top of the page.
You can view all the add-on orders that were purchased by your attendees by clicking on the orders tab. From here you can use the search bar to locate the buyer's add-on orders or filter out the orders by selecting 'All days, Past 7 days, or Past 30 days'. You may also filter the statuses of each order by selecting 'All Statuses, Not redeemed, or Redeemed.'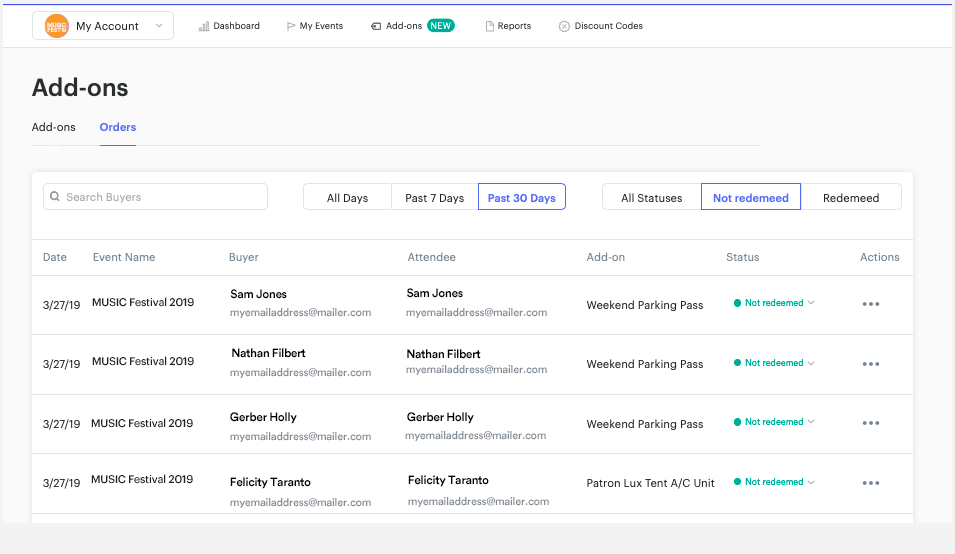 Note: To view a buyers add-on order or message the buyer, click the three dots beside the buyer you'd like to manage and select the options from the drop-down menu.

How to review the data collected for your add-on
You can review the data for your add-ons by downloading various reports:
For all add-ons purchased for a particular event, use the event-level add-ons report. The event-level orders report will also reflect how many add-ons were bought on each order.
Use the account-level reports, accessible through your dashboard, to see add-on sales across multiple events.
How to set team member permissions for add-ons
Team members on an account can only create and manage add-ons on behalf of the account holder if the 'Manage add-ons' box is check-marked in the team member's permissions settings.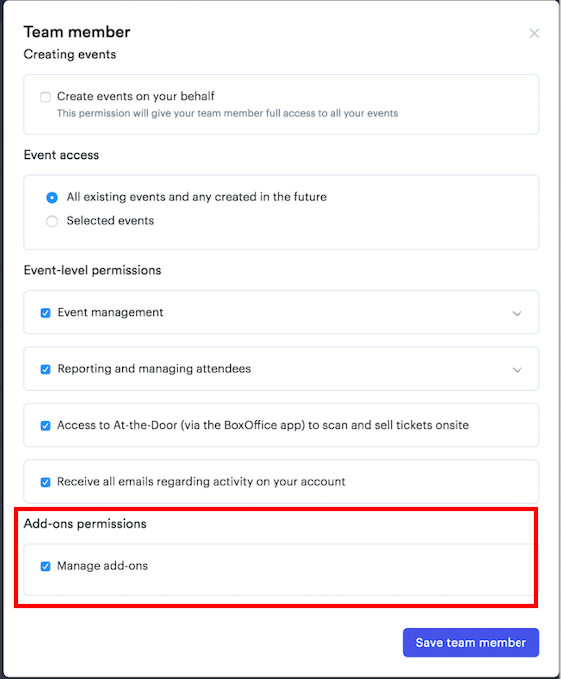 Frequently Asked Questions
I'm a team member of an account but I do not have access to the add-ons screen, what should I do?
If you cannot see the add-ons screen, please ask the account holder to grant you the "Manage add-ons" permission.
Can add-ons have event-specific inventory?
At the moment, an add-on's inventory will be shared on all events it's attached to. So if you have a "T-shirt" add-on with 25 units attached to 5 events, all 5 of those events will have access to those 25 unique units.
If you would like each event to have it's own 25 units, you'll need to create an add-on for each event.
Can add-ons be bought separately?
At the moment, add-ons can only be purchased with a ticket. If you have attendees who forgot to buy an add-on when they bought a ticket, you can create a free "Add-on Purchase" ticket type that would allow them to buy the add-on in a separate transaction.
How should attendees receive/redeem their add-on? Can add-ons be shipped?
The way add-ons are redeemed by the attendee will depend on the event and the event organizer, and we recommend using the add-on description to explain the redemption process, whether it's at the event entrance or somewhere in the venue.
Universe does not support shipping add-ons so if an add-on must be shipped, we highly recommend you collect the necessary info at checkout so that you can ship the add-on to the customer.
Can add-ons be refunded or exchange for a different add-on?
Similar to tickets, you can either refund an entire order or an add-on itself from the event manager.
If an attendee bought the wrong add-on, that add-on cannot be exchanged directly on Universe. The add-on will need to be refunded and the right add-on can then be repurchased.
Can I sell add-ons without an event on Universe?
Being an events platform, you will need to have a live event on Universe to sell any add-ons.
What fees apply to add-on sales?

The same Universe Service fee applies to your add-on sales as to your regular ticket sales. This includes the % based fee and the flat rate per ticket fee. For more information on Universe fees, please see: universe.com/pricing