The instant checkout feature allows your buyers to store their payment and billing information in order to speed up the checkout process. By using instant checkout, guests are able to bypass the step of entering their payment information on your checkout page by selecting Click to Pay. Click to Pay supports Visa, Mastercard, American Express, and Discover payments.
Note: At the moment, Click to Pay instant checkout is only available for events in the United States, transacting in USD.
To enable instant checkout methods for your listing:
1. Log-in to your Universe account, go to your My Events page and select the event you would like to manage.

2. From your Event Manager, select the Payment & Fees option from the menu down the left side of your screen. Then select Payment Methods.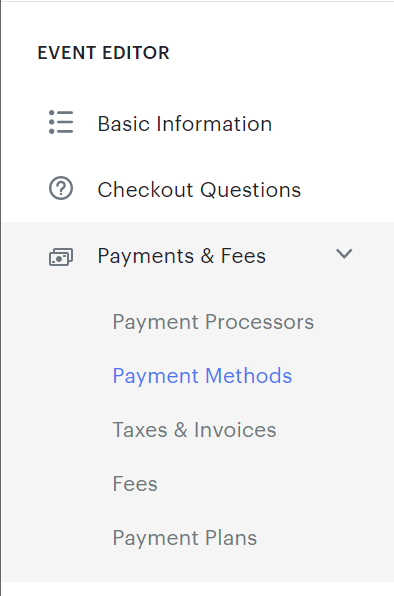 3. Scroll down to 'Instant checkout methods' and select Click to Pay. To activate, click the toggle icon. You will know it is "on" when it turns blue.

Note: This will enable Click to Pay for all four supported cards - Visa, Mastercard, American Express, and Discover.
4. Remember to save when you are finished.