What is all-in pricing?
Universe has deployed all-in pricing so fans see the full price of a ticket, inclusive of fees, starting from initial ticket selection through checkout. Any promoter, producer, operator or artist team in the US can now choose to display all-in pricing for their event on our platform.

Who is using all-in pricing?
This feature is already enabled for events in select US states including New York (effective August
29, 2022), Tennessee (effective June 29, 2023), Connecticut (effective September 28, 2023), Canada, and other international markets where all-in pricing is mandatory. All-in pricing will continue to roll out across the US as states pass legislation.


Event hosts in other states may turn all-in pricing on at their discretion. As we continue to support and advocate for all-in pricing laws nationwide, Live Nation has committed to using this feature for their venues and festivals for all events going on sale on or after September 25, 2023.

What does all-in pricing accomplish?
All-in pricing shows fans the full ticket price, including fees, from the moment they start shopping.
Fans typically know tickets have service fees, but seeing the total cost from the start makes buying
tickets easier and more like other retail shopping experiences.

Who sets the face value of a ticket?
Content owners (e.g. promoters, producers, operators, artist teams, etc.) set the face value
ticket price.

What will be included in the service fee line item?
Service fees help Universe cover the operating costs needed to provide fans with a safe and
secure ticket-buying experience. They are often shared between parties that help make the
event happen. This commonly includes venues, promoters, operators, producers, and Universe.

______

More about all-in pricing
Universe will now allow event hosts in the United States to show all-in pricing. If enabled, this
will allow fans to see all-in pricing at the point of ticket selection on any Universe event hosted in
the United States.

For events in the United States that have this feature enabled, all-in pricing will
automatically be displayed in the checkout and on our embeddable widgets so buyers will
be informed of all fees inclusive in the price.

The following popup message will be displayed to fans when they view an event on
Universe that has this feature enabled.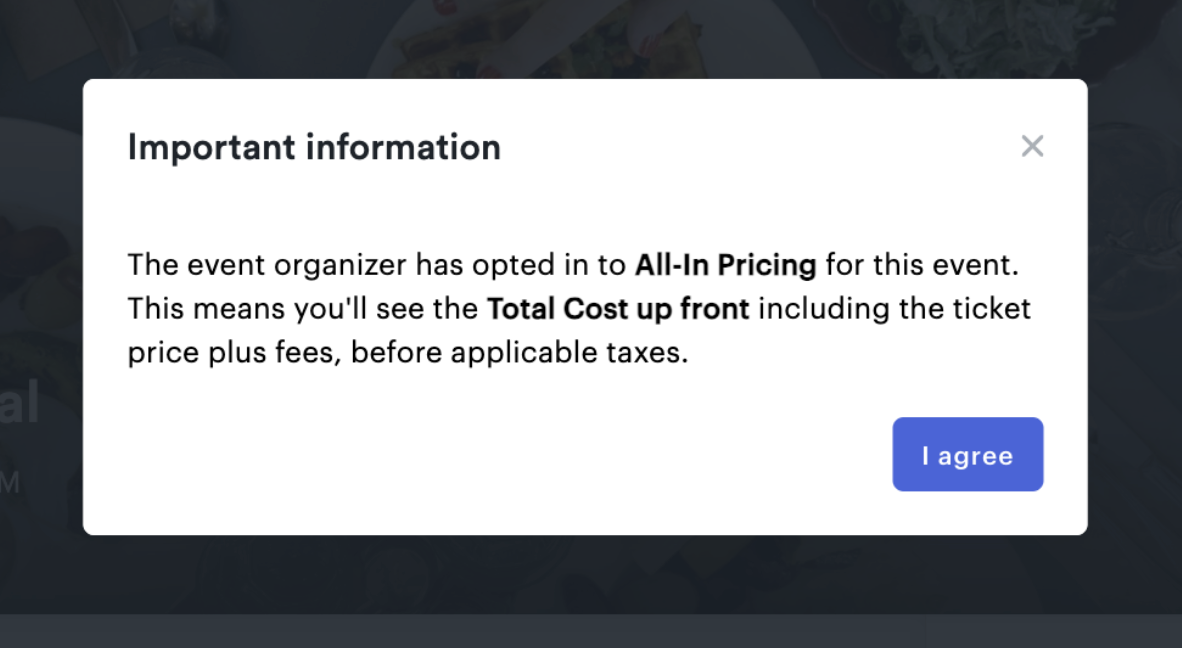 All-in pricing includes the face value of the ticket, service fees and additional fees. Taxes
will be added later in checkout. Below is an example of the order details of an event with all-
in pricing implemented: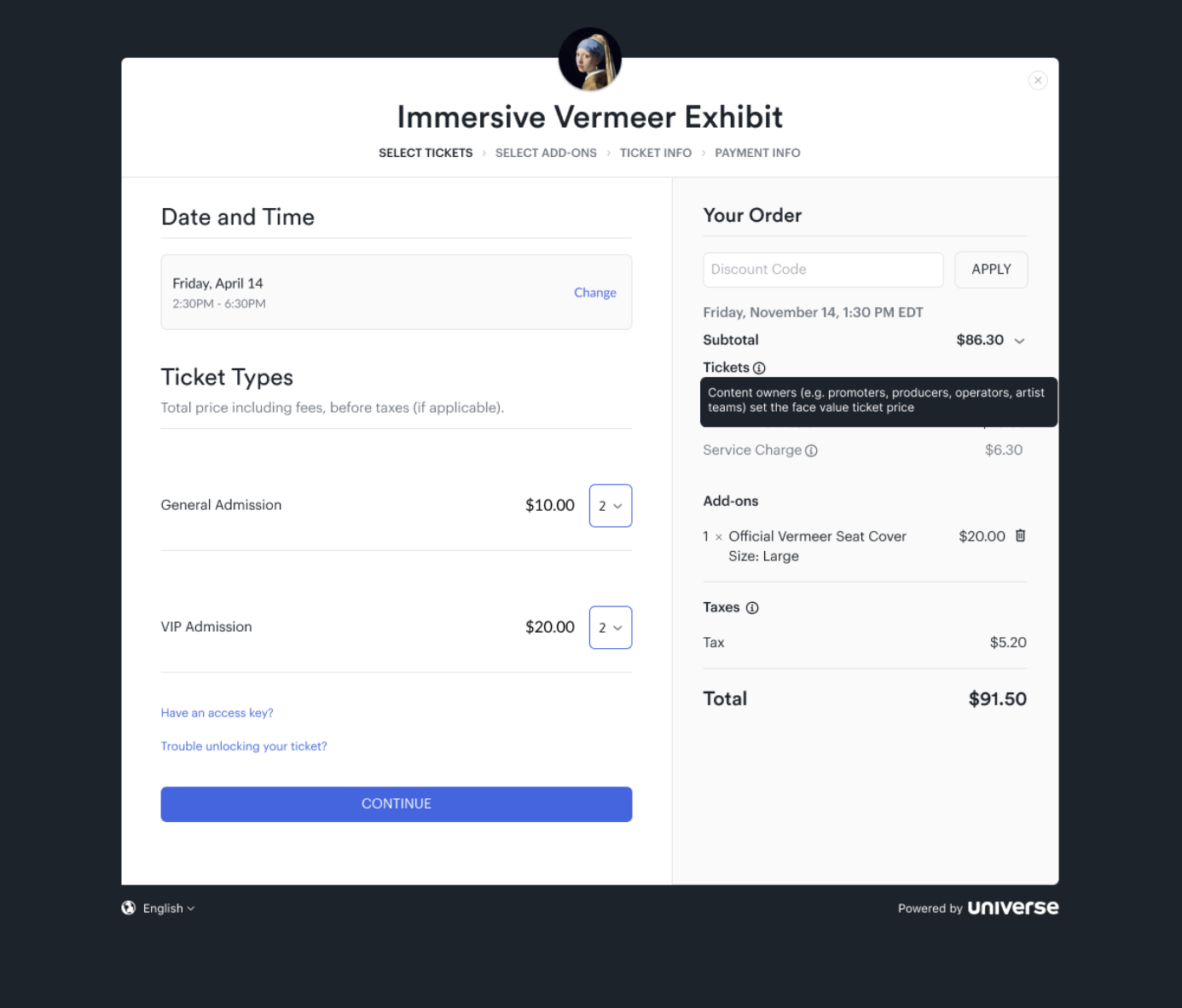 Depending on our agreement with the event host, you may see one of the two following tool tips: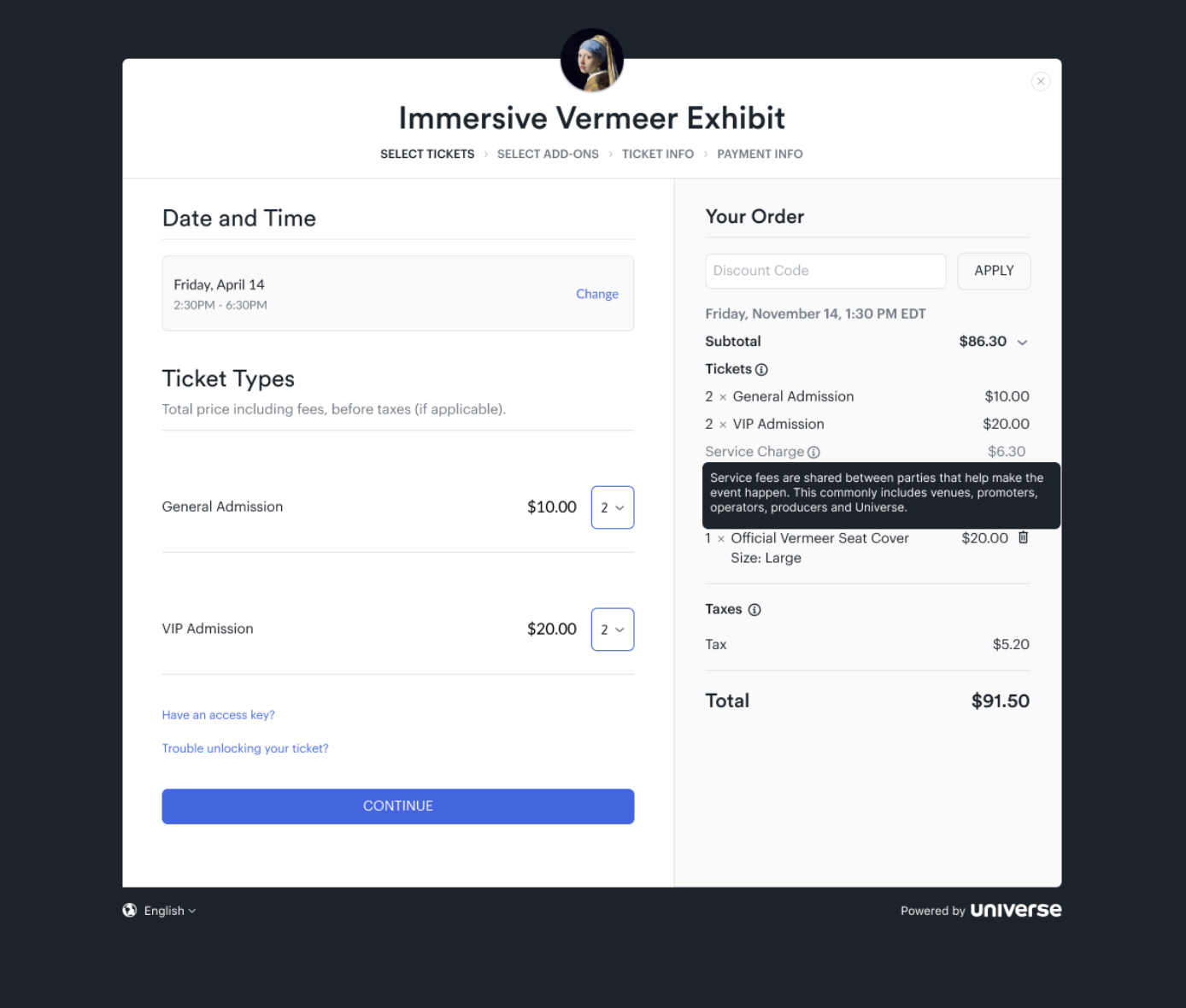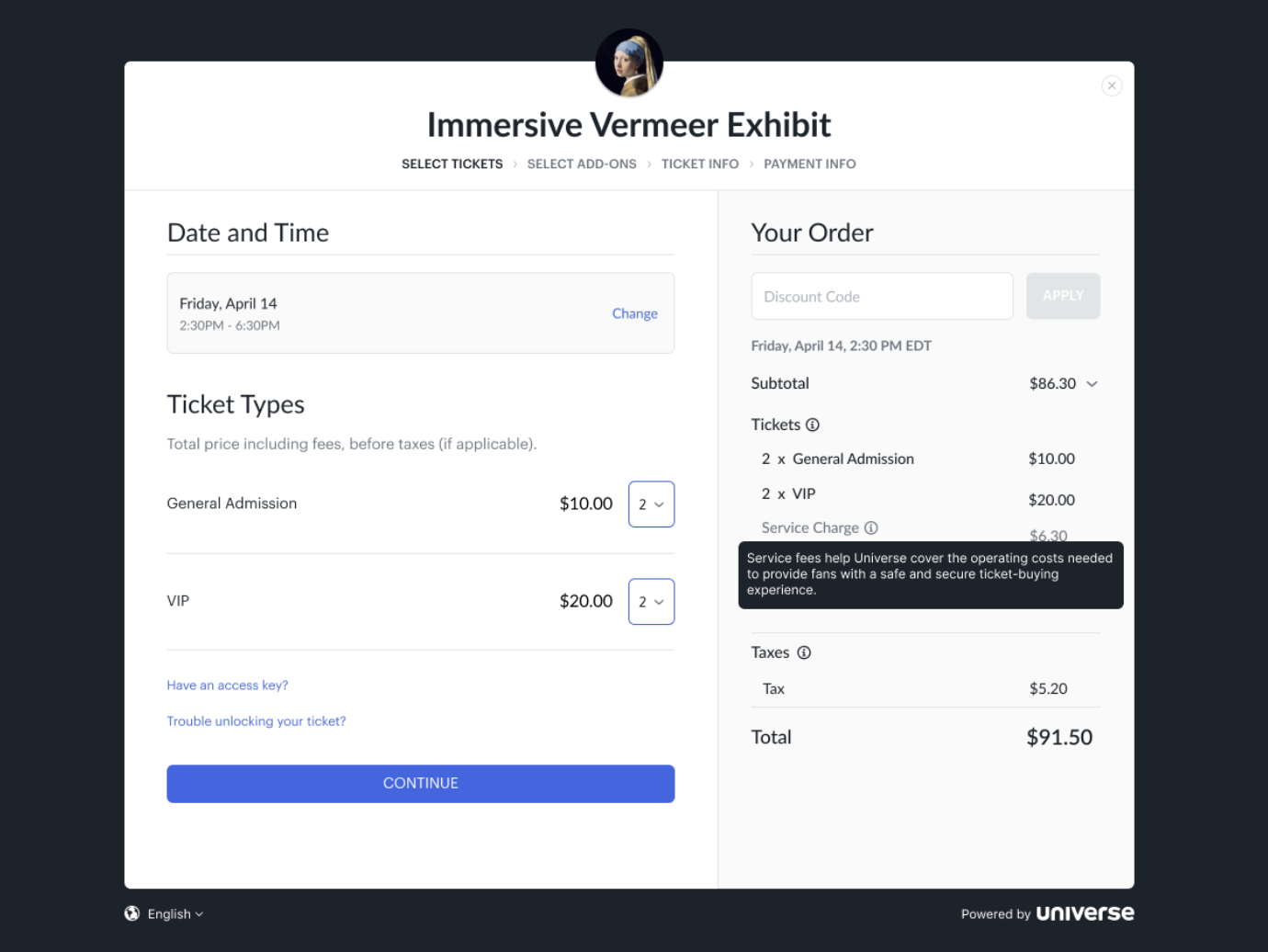 If you are a host interested in turning all-in pricing on:
For hosts outside regions where all-in pricing is mandated, this feature is optional and at the
discretion of the event host to request. To enable all-in pricing on your account, please
reach out to your Client Support Manager, or submit a support request here.

No action is required for hosts in a region where all-in pricing is mandated. This feature is turned
on automatically.